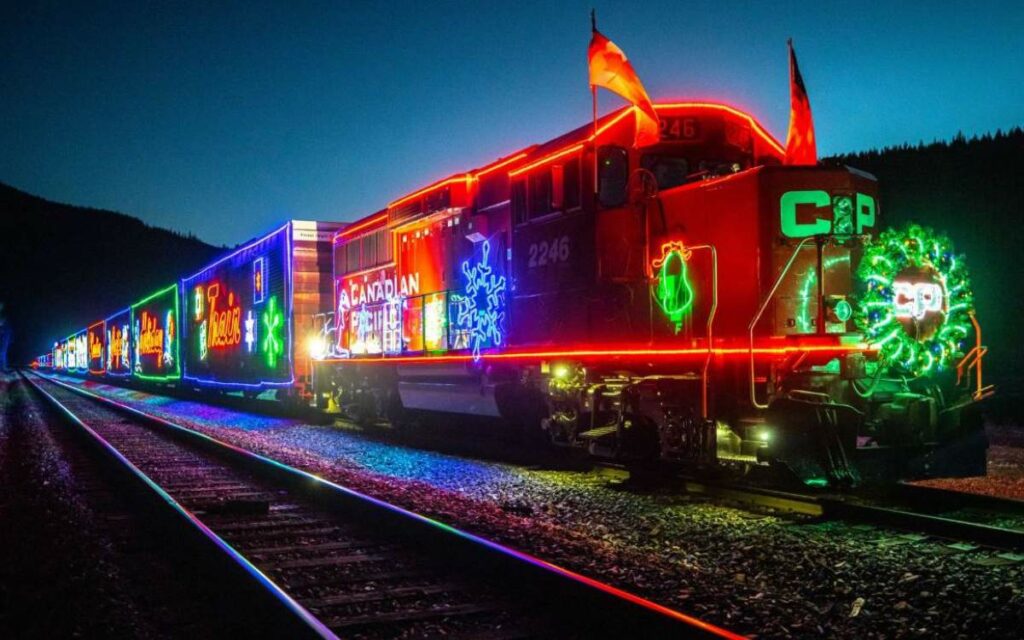 Back for the first time since 2019, the Christmas-themed locomotive will travel through Steeltown on Tuesday, November 29. Photo credit: CP
The Canadian Pacific (CP) Holiday Train has returned for 2022 after a brief two-year hiatus due to the pandemic.
Seeing the Holiday Train is a Christmas tradition for many Hamiltonians. The train will be in Hamilton on Tuesday, November 29 from 7:30PM to 9:00PM on the rail tracks to the south of Gage Park along Lawrence Road.
The train features 14 decorated rail cars in what is a roughly 1,000-foot Christmas spectacle. The event is free but is meant to serve as an opportunity to raise money, food, and awareness for local food banks in the communities it visits. The November 29 stop in Hamilton will be used to support Hamilton Food Share.
There will also be a concert, with Canadian country music singers Lindsay Ell and JoJo Mason using one of the railcars as a stage to perform a mix of holiday-themed songs. 
The concert will run from 8:00PM until 8:40PM. 
A fully family-friendly event, Santa Claus himself will be making an appearance. 
Attendees are encouraged to bring non-perishable food contributions and/or a cash contribution for Hamilton Food Share. Tuna, beans, rice, pasta, cereal, and baby food are among some of the recommended non-perishable items.
Executive Director of Hamilton Food Share Joanne Santucci is thrilled that the Holiday Train is back for 2022.
"We are so excited to greet the amazing CP Holiday Train this year as it will bring together thousands of Hamiltonians celebrating the time-honoured tradition of helping our neighbours while experiencing a massive injection of the Christmas spirit that is certain to accompany the train as it rolls into Hamilton's Gage Park," she said.
More than 50 volunteers will be on site at the Gage Park stop to collect donations. Attendees are encouraged to come early for pre-train activities. 
Prior to the train's arrival Hamilton Bulldogs' mascot Bruiser and Hamilton Tiger-Cats mascot Stripes will be on-site, Hamilton-based radio station 102.9 Bounce FM will be playing music, and Tim Hortons will be providing free coffee and hot chocolate.
The Holiday Train program launched in 1999 and has raised more than $25 million dollars' worth of donations and five million pounds of food for community food banks across North America. The program has two trains, one that travels exclusively within Canada and another that has stops in both Canada and the United States.
The two trains visit more than 160 communities in just over three weeks. 
As a result of the event, Lawrence Road will be closed between Cumberland Avenue and Kensington Avenue South from 4:30PM until 10:00PM. Only emergency services vehicles will be allowed access. All other vehicles will be detoured. It should be noted that the Gage Park parking lot at 50 Lawrence Road will not be accessible for parking for the event. 
Other nearby stops of the Holiday Train include Milton, Ontario from 4:45PM until 5:30PM on November 29 and Cambridge, Ontario on November 30 from 4:00PM until 4:45PM.
Based in Hamilton, Ontario, Kevin Geenen reaches hundreds of thousands of people monthly on social media. He is a regular contributor with The Hamilton Independent and has been published in The Hamilton Spectator, Stoney Creek News, and Bay Observer. He has also been a segment host with Cable 14 Hamilton. He is known for Hamilton Neighbourhood Watch crime updates and no-nonsense news graphics. In 2017, he received the Chancellor Full Tuition Scholarship from the University of Ottawa and later graduated with a Bachelor of Arts. He also received the Governor General's Academic Medal from Governor General David Johnston and formerly worked in a non-partisan role on Parliament Hill in Ottawa. He is currently employed as an Office Administrator at RE/MAX Escarpment. His journalistic work is independent of his other positions.