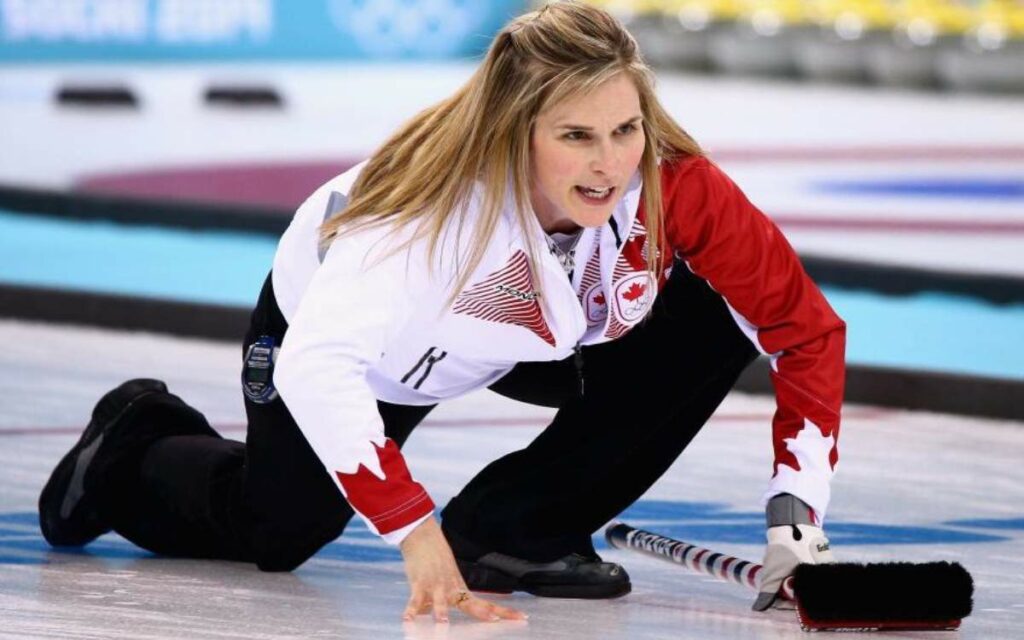 Jones and many of the world's best curlers converge on Niagara Falls this October for the Pinty's Cup. Photo credit: Getty Images/NBC Sports
Jennifer Jones, already regarded as the greatest female curler of all-time, just missed adding one more Canadian title to her resume on Sunday by dropping the Scott Tournament of Hearts Women's National Championship final in Kamloops, B.C.
Jones and her new young rink of previous Canadian national and world junior champions were defeated by three-time defending Scotties Champion Kerri Einarson 10-5. 
The highly decorated 35-year-old Einarson and her No. 1 world ranked Gimli Manitoba team of Briane Harris, Shannon Birchard, and Val Sweeting tied Nova Scotia's Colleen Jones record of winning four straight national championships.
"It's unbelievable, to be up there with Colleen Jones, like that's pretty impressive to win four titles in a row, that's pretty amazing," said Einarson. "We had to work so extremely hard to win this, so extremely proud of my teammates." Einarson and her mates are now off to Sweden where they will again represent Canada in this years' world championships.
But the 48-year-old Jones won back the hearts of Canadian curling fans this year. She took a gamble in 2022 by eschewing her previous teams of older more experienced colleagues and instead recruited rotating Leads Lauren Lenintine and Emily Zacharias, Second Mackenzie Zacharias and Third Karlee Burgess to play with her. The new combination worked, as Jones' leadership and experience kept the all-under-24 kids calm, and in turn the kids' youthful exuberance rejuvenated Jones' love for the competition and led them to the finals.
"It's fun for me to see curling through their eyes and their experiences and try to show them the things that I've learned. It's fun for me to watch that. They're great people and I want great things for them so it's fun to be a small part of their journey," said Jones.
In addition to her six Scotties titles, Jones has won Olympic Gold for Canada twice, as well as two World Championships, nine Grand Slam of Curling titles and four Pinty's Cup wins. The Scotties is considered one of the most difficult championships to win largely due to the depth of talent of so many teams in Canada. In fact, 27 of the top 50 teams in the world hail from Canada.
For the last 10 ten days, if you turned on your television you couldn't help but run across the widely watched Canadian women's championship. The Scotties and the men's Brier attract an incredible national audience for draws held three times each day for 10 days. The Brier will be held this year in London, Ontario featuring Canada's top 18 men's teams.
But Niagarans won't have to go to Kamloops nor even to London to watch the best curlers in the world in 2023. As previously reported by The Niagara Independent, Niagara Falls will be in the national spotlight when it hosts the Pinty's Grand Slam of curling this October 17-22 at the Gale Centre. 
The six-day bonspiel will be nationally televised by Sportsnet and will feature not only Jones and Einarson but the top 32 women's teams in the world, including past world champions Silvana Tirinzoni from Switzerland, Anna Hasselborg from Sweden, and Olympians Stafania Constantini from Italy and Satsuki Fujisawa from Japan, to name just a few. Other Canadian champions at the event include three-time Scotties champions Rachel Homan, two-time Olympic Gold medalist Kaitlyn Lawes and many more.
The Grand Slam in Niagara Falls will also feature the top 32 men's teams in the world, including the most decorated Swedish world and Olympic champion Niklas Edin, Canada's Olympic gold medalist and four-time Brier champion Brad Gushue, four-time Brier champion Kevin Koe and Scottish champion and Olympian Bruce Mouat.  
This will be the deepest field of world-class curlers among any event in recent history, including the fields which compete at the world championships and Olympics.
The event is expected to provide an estimated $2 million to $4 million in economic impact, and strong exposure to the municipality, with more than three-million viewers.
The bonspiel will see over 350 athletes and coaches, and thousands of fans travel to the city for several days.
"Niagara Falls brings an element of magic to the event that other destinations don't," said Mayor Jim Diodati. "When you come to Niagara Falls, the spousal programs are huge because there's a lot for everybody to do … and they'll build it into a larger family event, and an extended stay." 
Diodati said the event will also bring large crowds to the city outside the traditional busier tourism season.
Janice Thomson, president of Niagara Falls Tourism, said the event will allow the city and its businesses to "demonstrate their capabilities in accommodating such a sporting event."
"Everything can happen here — all the accommodation, all the meals, all the entertainment," she said.
Having Niagara Falls spotlighted on a national broadcast will also create future opportunities for the destination.
"That's a great opportunity for us to have the national exposure, and perhaps to another segment – people that are watching curling."
"I think Sportsnet was pretty excited at the opportunity to broadcast from this location," said Niagara Falls Curling Club Manager Sean Ford.
The provinces' premier tourist destination embracing sport tourism fits with the provincial government's push to embrace Ontario hosting large tourist events like the recent Canada Summer Games, the 2026 FIFA World Cup and supporting a bid in Hamilton for the 2027 Commonwealth Games.  
CFL Hall of Famer Neil Lumsden, now Ontario's Minister of Tourism, Culture and Sport says the importance of sports tourism cannot be overestimated, "massive, its massive", he enthused.