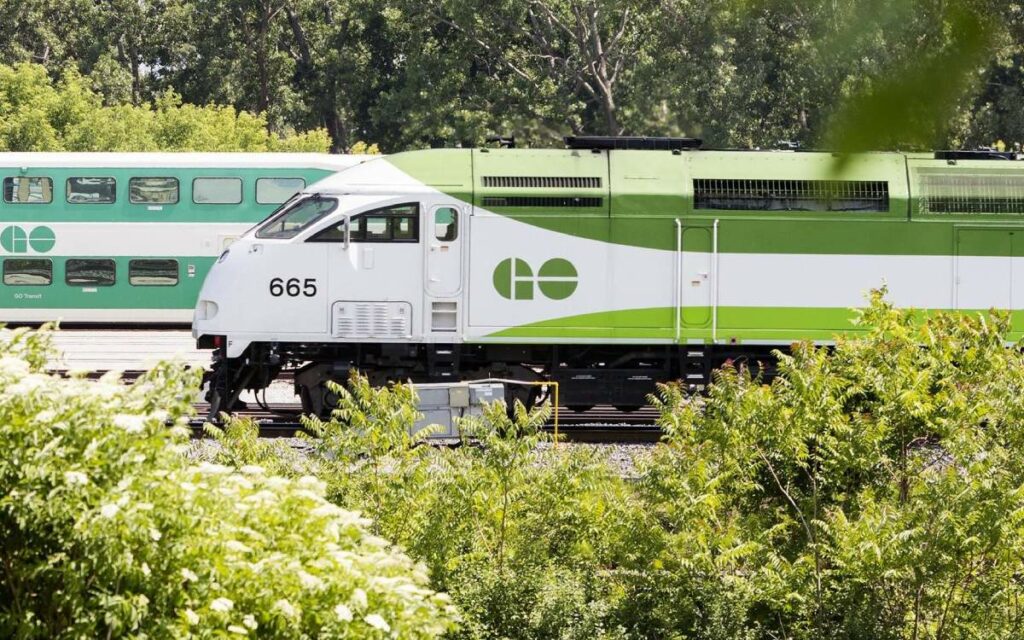 Four new weekday peak express trips in each direction along the Lakeshore West line added. The Premier and Minister of Transportation Caroline Mulroney announced the expanded service last week in Niagara. Photo credit: Metrolinx
Premier Doug Ford was in St. Catharines last Friday where he announced a number of additions to GO train schedules including more Hamilton express trains to Toronto and more train trips to Niagara Falls.
The new trips have already started, with a May 20 launch.
The most significant new development for Hamilton transit riders is the addition of four weekday peak express trips in each direction along the Lakeshore West line.
Rather than making all station stops between Hamilton and Toronto's Union Station, express trains skip Port Credit, Long Branch, Mimico, and Exhibition, getting transit users to their destination faster.
Some express trains serve Hamilton's West Harbour GO while others serve Hamilton GO Centre downtown or Aldershot GO.
In addition, Ford announced that there will now be three GO train round trips to and from Niagara every day of the week year-round.
Previously, there was one round trip to Niagara on weekdays and two each day of the weekend. There will now be a total of 21 round trips between Niagara and Toronto per week, up from nine per week.
All trains in both directions will also include stops at St. Catharines GO, Aldershot GO, and Burlington GO. Select trains also include a stop at Hamilton's West Harbour GO.
Premier Ford was joined by Minister of Transportation Caroline Mulroney, Minister of Tourism and Hamilton East-Stoney Creek MPP Neil Lumsden, and other officials for the announcement at the St. Catharines VIA station.
Mulroney said, "This is another exciting step in our government's plan to deliver more GO train trips, more often across the network, to help people get where they need to go with ease."
"We're unlocking opportunities for jobs and economic growth across the Greater Golden Horseshoe," she continued. 
While the announcement arrives near peak tourist season, the government says that the new service is year-round.
Flamborough-Glanbrook MPP Donna Skelly says that the service expansion "will better connect the people of Hamilton to exciting tourist destinations and economic opportunities."
The government says that the expanded train schedule provides greater opportunities for day trips, overnight visits, concerts, and events in Niagara, Toronto, and everywhere in between, while also adding options for weekday commuters.
"Our government recognizes tourism's importance to Ontario's economy," said Lumsden.
For more options to and from Niagara outside of train times, there is also hourly service on GO bus route 12 between Niagara Falls and Burlington GO, with connections to Lakeshore West train service.
Stoney Creek's Confederation GO station on Centennial Parkway is also expected to receive train service when it finishes construction. The station is expected to open in 2025 and is being built thanks to a $50 million investment from the Government of Ontario.
Ford has said that Confederation GO will eventually have two-way, all day train service. Niagara officials hope that the same level of service will come to their region as well.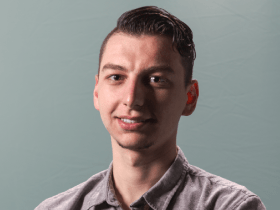 Based in Hamilton, he reaches hundreds of thousands of people monthly on Facebook, Instagram, TikTok, and Twitter. He has been published in The Hamilton Spectator, Stoney Creek News, and Bay Observer. He has also been a segment host with Cable 14 Hamilton. In 2017, he received the Chancellor Full Tuition Scholarship from the University of Ottawa (BA, 2022). He has also received the Governor General's Academic Medal. He formerly worked in a non-partisan role on Parliament Hill in Ottawa.