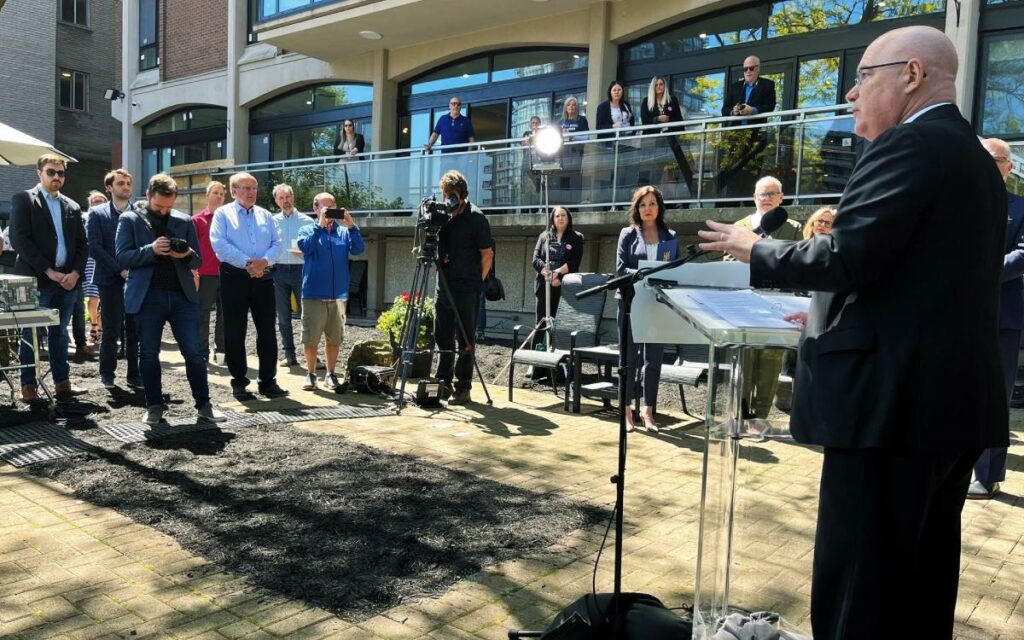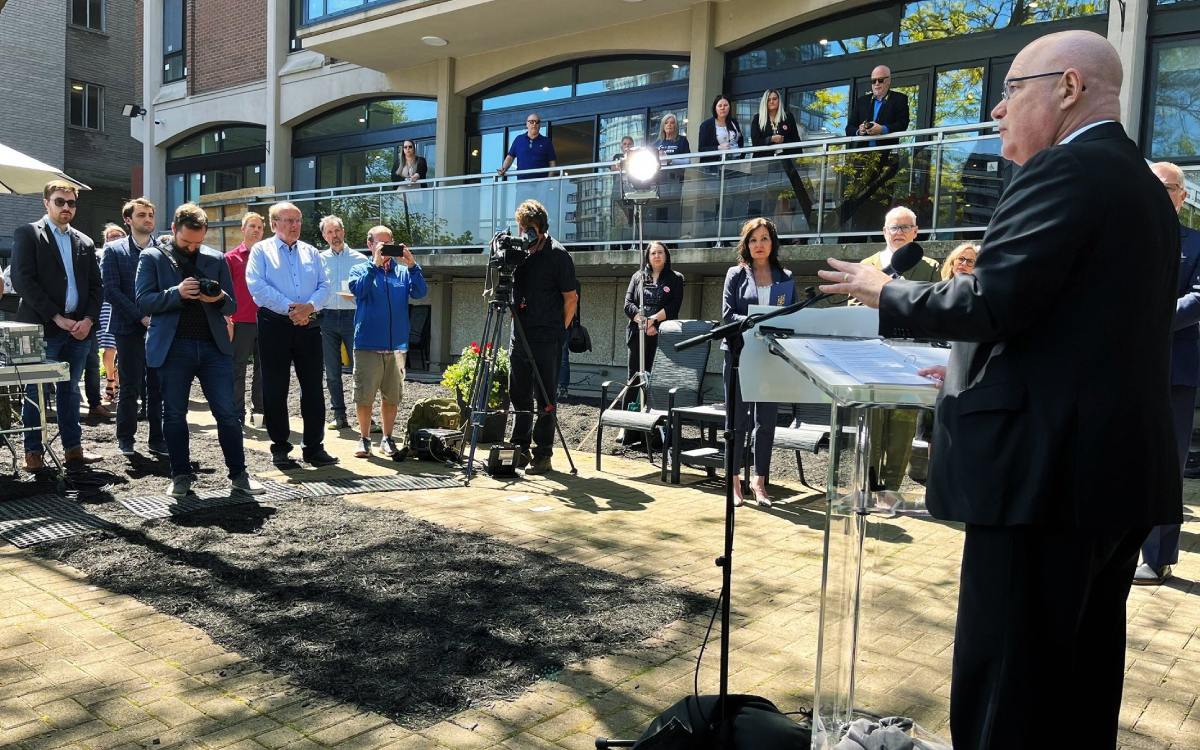 Minister of Municipal Affairs and Housing Steve Clark (pictured at podium), local MPPs Neil Lumsden and Donna Skelly, and community partners were all on hand in Hamilton for the announcement last Friday. Photo credit: Twitter/Steve Clark
Ontario's Municipal Affairs Minister Steve Clark was in Hamilton last Friday, announcing nearly $7 million of government funding through the Social Services Relief Fund to help support multiple supportive housing projects.
Clark was joined by Hamilton East-Stoney Creek MPP Neil Lumsden and Flamborough-Glanbrook MPP Donna Skelly for the announcement.
A total of $4.8 million will help maintain 73 supportive housing units at 35 Arkledun Avenue in Hamilton, where the Good Shepherd converted a former commercial school into units for the homeless or those at risk of homelessness.
The building is five storeys and will have 49 permanent housing units and 24 units for short-term stays.
It is named Dorothy Day Place in recognition of the 20th-century American social activist.
Some residents will begin moving into the apartments this month.
Another $2 million will go towards restoring and renovating 180 Ottawa Street North to create 12 units that will prioritize young Indigenous parents. 
The building was formerly a small hotel that then became CD Sports Bar before being acquired by affordable housing charity Indwell in 2022.
The Ottawa Street accommodations will reportedly "allow young parents to start their families in a safe environment that reflects the values of First Nations communities."
The residents who will live there are in partnership with Hamilton Regional Indian Centre and Sacajawea Non-Profit Housing.
Clark says that the Ontario government is "working hard to ensure Hamilton's housing needs are met with historic levels of funding in supportive housing and homelessness prevention that recognizes the city's unique needs." 
"Supportive housing is a critical component of our commitment to build 1.5 million new homes by 2031, which will help all Ontarians, especially our most vulnerable, find a home that meets their needs and budget," he continued.
Indwell CEO Jeff Neven says that supportive homes such as these are truly "the solution for people who are unhoused or precariously housed."
The Social Services Relief Fund has provided over $1.2 billion of support to help municipal service managers and Indigenous program administrators create longer-term housing solutions for the vulnerable.
Administrators have the flexibility to allocate provincial homelessness prevention funding to programs and services such as rent supplements, homeless shelters, and building supportive housing.
The Ontario government also invests an additional $202 million each year in homelessness prevention programs across Ontario. 
Of that number, the province is giving $27.9 million annually for the next three years to support the City of Hamilton's Homelessness Prevention Program.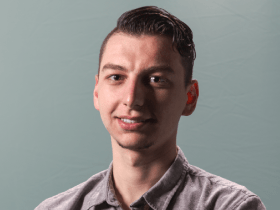 Based in Hamilton, he reaches hundreds of thousands of people monthly on Facebook, Instagram, TikTok, and Twitter. He has been published in The Hamilton Spectator, Stoney Creek News, and Bay Observer. He has also been a segment host with Cable 14 Hamilton. In 2017, he received the Chancellor Full Tuition Scholarship from the University of Ottawa (BA, 2022). He has also received the Governor General's Academic Medal. He formerly worked in a non-partisan role on Parliament Hill in Ottawa.