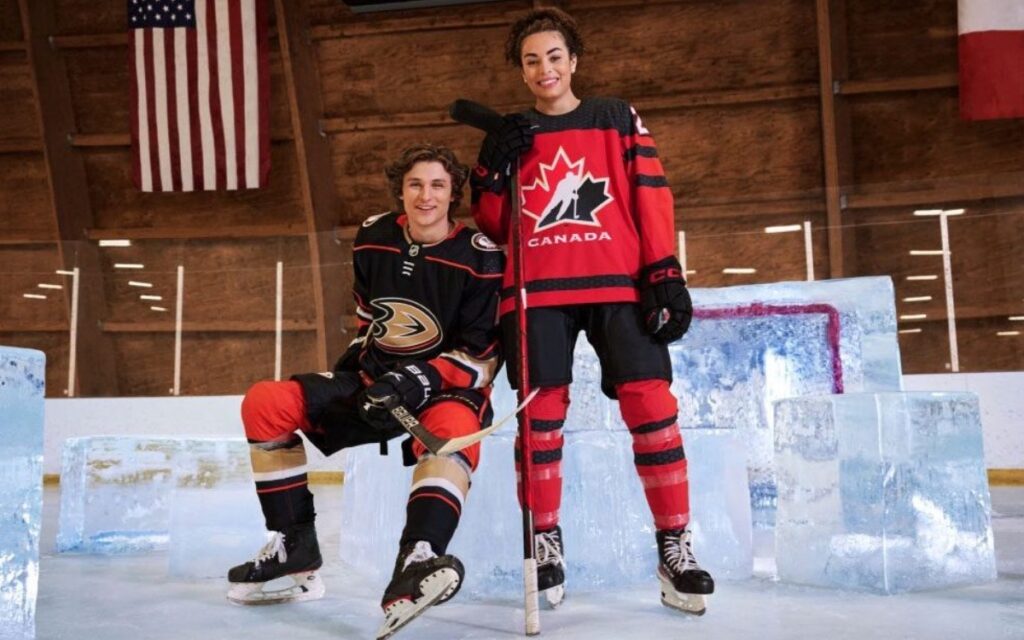 The 27-year-old former Stoney Creek Jr. Sabre scored a record 18 points on route to Canada's gold medal effort at the 2022 Beijing Olympics. Nurse will be featured alongside Anaheim Ducks rookie sensation Trevor Zegras. Photo credit: EA Sports
Electronic Arts (EA), a video game company primarily known for its sports games, announced on Thursday, August 25 that Hamiltonian Sarah Nurse will be featured on the cover of the NHL23 video game.
Nurse will appear alongside Anaheim Ducks rookie sensation Trevor Zegras on the newest edition of the game. It's the first time that EA has featured two people on the same cover and also marks the first time that a female hockey player gets the honour.
NHL23 will be officially available for play on October 14, 2022.
Nurse, 27, was born in Hamilton and used to play for the Stoney Creek Jr. Sabres where she broke the Provincial Women's Hockey League (PWHL) record for most goals in a season during the 2012-2013 campaign.
She eventually went on to play for the Canadian women's national team and won a gold medal in the 2022 Beijing Olympics. Nurse, who is biracial, became the first black woman to win a women's Olympic hockey medal.
Although hockey is a team sport, it was also her individual achievements during the 2022 Olympic tournament that made history.
Nurse had an Olympic record 18 points in the tournament, beating Hayley Wickenheiser's record of 17. She also broke that record on the biggest scale – in the gold medal game against the United States. During that gold medal matchup, she notched a goal and an assist.
It was that performance at the Winter Olympic Games that led to EA Sports giving her a call to inquire about her interest in being on the NHL23 cover. In fact, when she received the call, she was on vacation celebrating the gold medal victory.
Nurse says that she hopes her appearance on the NHL23 cover "will inspire young girls everywhere to know that there is a place for them in hockey."
The NHL23 cover announcement also comes at the perfect time – Team Canada is currently competing in the women's hockey world championships in Denmark. The tournament started on Thursday, August 18.
So far, team Canada has won all three of their first three group games. They beat Finland 4-1 in a game where Nurse got a goal and an assist. Then then won 4-1 against Switzerland and 9-0 against Japan. Canada plays their final group game on Tuesday, August 30 at 2pm against the U.S.
The world championship final will air on Sunday, September 4 at 1:30pm eastern time. All games are available to watch on TSN.
In addition to the NHL23 cover including a female hockey player, EA also announced that Hockey Ultimate Team (HUT) mode will feature women's national team players for the first time in the history of the game.
NHL22 was the first game to include women's national teams, but HUT mode was limited to male players only.
Interestingly enough, Sarah Nurse is not the only athlete in her family to be featured on the cover of a high-profile sports video game. Her uncle is infamous NFL quarterback Donovan McNabb, who used to play for the Philadelphia Eagles. He appeared on the cover of Madden 2006, EA's football video game.
Sarah also has a number of other relatives involved in high-level sports. Her other uncle, Richard Nurse, played as a wide receiver for the Hamilton Tiger-Cats, and her cousins include Edmonton Oilers defenceman Darnell Nurse and professional basketball player Kia Nurse.
Note that the author of this article, Kevin Geenen, is running for Ward 5 City Council Hamilton (Gray Rd to Red Hill Parkway plus the Beach Strip). Based in Hamilton, Ontario, Kevin Geenen reaches hundreds of thousands of people monthly on social media. He is a regular contributor with The Hamilton Independent and has been published in The Hamilton Spectator, Stoney Creek News, and Bay Observer. He has also been a segment host with Cable 14 Hamilton. He is known for Hamilton Neighbourhood Watch crime updates and no-nonsense news graphics. In 2017, he received the Chancellor Full Tuition Scholarship from the University of Ottawa (BA, 2022). He has also received the Governor General's Academic Medal from Governor General David Johnston. He formerly worked in a non-partisan role on Parliament Hill in Ottawa.