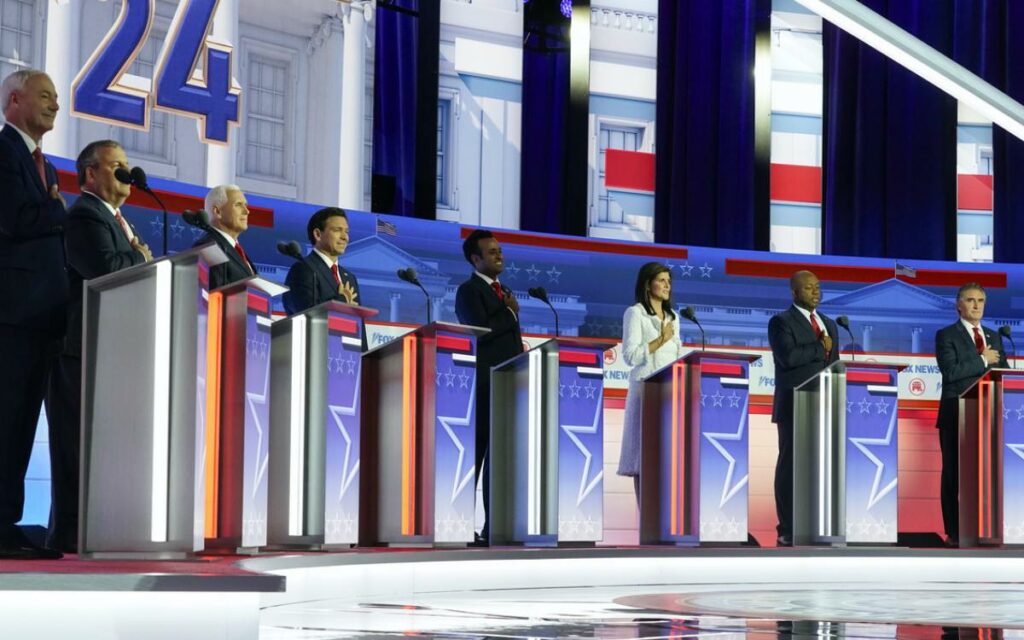 And a quick look ahead to the next round later this month. Photo credit: AP/Morry Gash
With the first Republican debate in the can, most are turning their attention to the next contest slated for September 27 at the Reagan Library in Simi, California. Before prospects for the second debate are considered, an analysis of the first debate would help determine where each candidate stands. 
Gov. Nikki Haley
Coming out of the Milwaukee debate, Nikki Haley gained the most momentum. Governor Haley looked prepared, steady, confident, and on message. She backed down from no one and took the fight for the heart of conservatism to Vivek Ramaswamy in a memorable exchange. She spoke the truth that no one dared say out loud when she asked the audience if nominating the most unpopular candidate in the race would produce the results the GOP seeks. Haley remains a long shot, but it does appear she will make the final cut and be one of the last three or four contenders when the field gets whittled down. 
Her personal story and minority status speak well for a party needing to more actively display its appeal to Americans of colour, women, and independent voters who will likely decide a close election. While she may not be able to win the nomination because of Donald Trump's huge lead, she lurks as a strong alternative if the favourite falters for whatever reason and the party decides to attract a broader catchment of voters. 
Haley would likely trounce Biden in a general election race, winning states where Trump trails badly. National polls do not reflect races in Arizona, Georgia, Michigan, Wisconsin, or Pennsylvania. No Republican can win without taking a good portion of these states. Trump trails in all of them. Haley, like DeSantis, Scott, or even Governor Burgma, would likely win most of them. Trump's appeal within the party handicaps him in these swing states from what the polling indicates. 
If Haley can perform as strongly in the upcoming debate as she did in the first meeting, she will likely proceed to the second tier of candidates behind Trump and be poised to vault to the top if Trump's fortunes crumble or his health fails. 
Gov. Ron DeSantis
DeSantis had much on the line in the first debate but managed to stop the bleeding of support he had experienced through most of the summer. He looked confident and in command of the material, but he also had moments where he looked unsteady. His forced response to the question about Mike Pence's actions on January 6th made him seem petty. He admitted that Pence did "fine", but before the debate, he had always indicated the vice president acted constitutionally. Why the sudden hesitation? One fears he heard Donald Trump's footsteps and if he gave the wrong response, his campaign would go into freefall. 
DeSantis, in his first national appearance, did not turn off voters and remains a viable candidate in this race. Hurricane Idilia's landing in Florida at the end of August allowed DeSantis to play to his strengths. 
He is a first-rate administrator and notoriously reads and absorbs information like President Clinton. Sadly for him, he possesses few of Clinton's emotional quotient skills. Regardless, the hurricane showcased DeSantis's ability to coordinate a response team, get support ordered, and move proactively to ensure resources are in place. He had no room for error. Unlike the disaster in Hawaii, the press would have been unforgiving of any miscalculations on DeSantis' team. 
His handling of the crisis will not move the needle to any great degree, but the slow drip of Donald Trump's troubles is reason enough for DeSantis to want to stay in second place. If anything happens to Trump, DeSantis wants to be the default. He did not hurt himself in the first debate and needs to maintain that standard in the next one. 
Vice President Mike Pence
Mike Pence came out very aggressively. While he did not help his candidacy, he did advance his legacy. Pence's candidacy finds legitimacy in his effort to clear his name. Donald Trump has spent the better part of three years bad-mouthing and diminishing Mike Pence as his partner and in his constitutional role. 
Badgering Pence about changing slates of electors, blaming Pence for refusing to act unconstitutionally, or insulting his integrity in the face of presidential threats speaks volumes about Trump's willingness to act unlawfully. He believes the Left routinely flouts election law. His argument rests on fighting fire with fire. Pence did not think he had the constitutional power to change the votes, but beyond that, he feared what would happen within the body politic. 
The former vice president knows he has little chance of winning, but more importantly, he wants to change the narrative that Donald Trump keeps advancing. He gained consensus among his competitors that he did the right thing. He will never convince Donald Trump, but unless something changes drastically, Pence will not survive long enough to be around if and when Trump finally decides he had better show up to debate for his job. 
Senator Tim Scott
Tim Scott remained inert after the first debate. He has the political talent and story to win voters, but he needs to engage more actively to improve his chances. He seemed to avoid confrontation and allowed the others to run the show. Unlike Haley, Scott may have seemed polite and cautious, but that did not produce the results required. 
Unless he ups his energy in the next debate, he may be one of the candidates who makes an early exit. 
The Others
Doug Burgum has a great story. He built a billion-dollar industry in little North Dakota. He has governed the state successfully and has the chops to be the Secretary of Energy, but his chances of winning this nomination are underground. 
Asa Hutchinson faces the same problem and has no reason for continuing his campaign. 
Chris Christie's time has passed if ever he had one. His efforts to tar Trump may have some fans in the GOP, but nowhere near enough to make a difference. He will look prescient if Trump's legal troubles end up sinking him, but he will not be the one benefitting. 
Finally, Vivek Ramaswamy had his moments in the debate, but they appealed to a very narrow core of voters. His foreign policy prescriptions, musings about 9/11, and inconsistencies on issues leave him open to charges of opportunism (hopes to be on Trump's list), inexperience (he seemed unprepared to answer Haley's questions), and celebrity (he wants a job on TV or hopes to cash in on another book deal). 
The next debate should reduce the field to Haley, DeSantis, and Trump. That would hopefully force Trump to debate, giving Republican voters a clear choice. If one of the others outperforms, they may stick around, but does anyone believe the nominee will be anybody but one of the three aforementioned? 
The sooner we cut to the chase, the sooner the GOP can begin to focus on their real opponent: Joe Biden.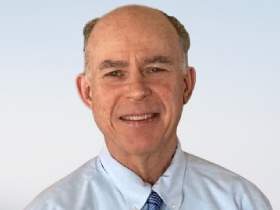 Dave Redekop is a retired elementary resource teacher who now works part-time at the St. Catharines Courthouse as a Registrar. He has worked on political campaigns since high school and attended university in South Carolina for five years, where he earned a Master's in American History with a specialization in Civil Rights. Dave loves reading biographies.