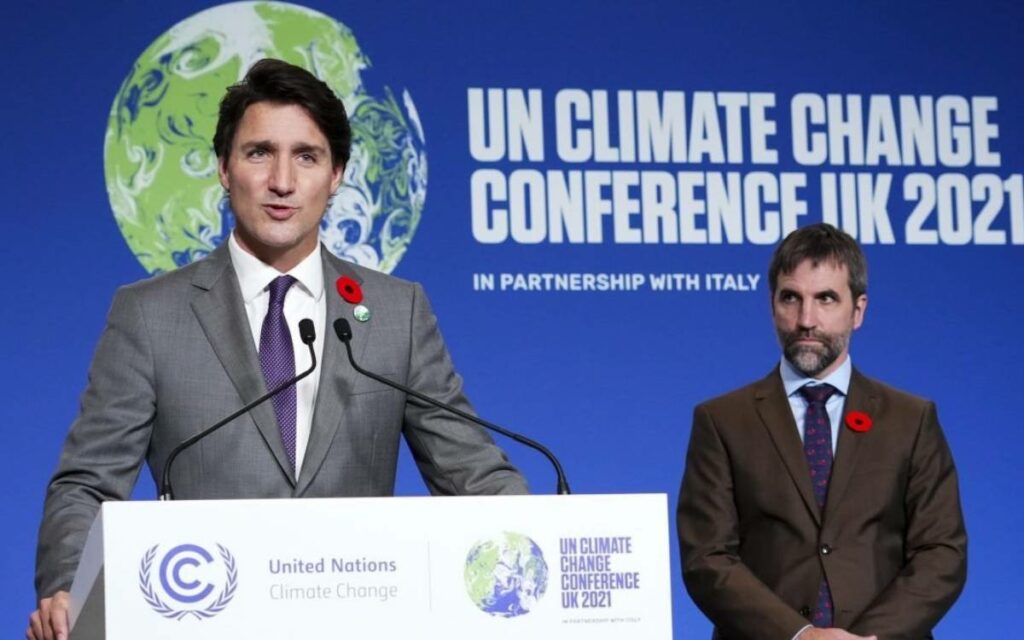 Prime Minister Justin Trudeau (left) and Minister of Environment and Climate Change Steven Guilbeault at COP26 in Glasgow, Nov. 2, 2021. Photo credit: The Canadian Press/Sean Kilpatrick 
The federal government has Canada (a.k.a. the Great White North) in fervid pursuit to meet international climate change commitments and to achieve a "net-zero emissions economy" by 2050. Prime Minister Justin Trudeau has made it his singular mission to implement a "bold" green agenda that will position Canada as a global leader in reducing greenhouse carbon gas emissions. 
To the applause of various United Nations audiences, the Canadian PM committed the country to cut its carbon emissions by 40 to 45 per cent below the 2005 levels by the year 2030, and to reach a net-zero emissions mark by 2050. At the recent Glasgow climate summit, he pledged to cap the emissions of Canadian oil and gas companies at today's levels and put regulatory measures in place that will have this energy sector meet a net-zero emissions target by 2050. 
To make this happen, PM Trudeau selected "a climate activist" as the country's environment and climate change minister. Steven Guilbeault has been extended a free rein to take a hardline in realizing the government's green dream. He is unabashed, recently stating, "My timeline is two years. So, in the next two years, more stringent methane regulations, zero emission vehicle standards, net zero grid by 2035, cap on oil and gas and obviously phasing out fossil fuels – all of these things must be in place in the coming eighteen months."
The PM's political operatives are also on the move. Backroom maneuvers were exposed recently when U.S. Ambassador to Canada David L. Cohen posted on his Twitter feed of a policy meeting with the PM's BFF Gerald Butts, Catherine McKenna (former environment minister, now private citizen), and Mark Carney, UN Special Envoy on Climate Action and Finance (and celebrated Liberal leadership aspirant). The American ambassador described the meeting with the unelected friends of the PM as "a discussion on how Canada and the United States can work together to achieve our shared goals toward a greener, cleaner future."
And so, all the PM's players may be fully engaged, but there is a glaring fallacy that Canada's pursuit and achievement of a net-zero emission target by 2050 will mean anything at all. In fact, it is meaningless in the reduction of the actual total amount of gas emissions. The reality is that if Canada were to eliminate all its carbon gas emissions tomorrow, the 184 coal plants currently being built in China would more than replace this accomplishment. In 2020, China built more than three times as much of new coal power capacity as all the other countries in the world combined – and China has repeatedly refused to sign onto any international agreement to reduce its coal use.
It is furthermore evident that the government's drive towards a net-zero emissions target is a quixotic pursuit when appreciating that Canada ranks tenth on the list of global polluters. It is but a miniscule 1.6 percent fraction of the world's greatest emitters. Now consider more than half (53 per cent) of the world's carbon emissions come from four countries: China – 27.2 per cent, U.S. – 14.6 per cent, India – 6.8 per cent, and Russia – 4.7 per cent. 
It is another inconvenient fact that, at today's measurements, China emits in 20 days the carbon emissions Canadians pollute in an entire year. 
That said, it is questionable whether Canada can substantially reduce its carbon emissions, let alone meet a net-zero target. Since 2015, Canada's emissions have actually risen. According to a recent U.N. Emissions Gap Report, Canada is set to miss its next emissions target in 2030 by 15 per cent. The country's vast geography, cold climate, and its citizens' suburban lifestyles requiring travel for work, all challenge the notion that in less than 30 years Canadians can significantly curtail their energy use and carbon emissions.    
The Trudeau government's plan to finance its environmental agenda is also doubtful. The proposed green plan is currently costed at $109 billion of government investment in the next decade. The economic underpinning of this plan depends on considerable private sector investment. For every one taxpayer dollar the government will spend, the Trudeau government is looking to encourage six private sector dollars of investment. However, this is highly unlikely as the Canadian private sector is reluctant to partner with subsidized federal projects and Canada itself has become increasingly unattractive to foreign investors. 
But the Trudeau government has a solution for the funding challenges posed by the drought of private sector equity that is torn directly from the pages of the World Economic Forum (WEF) playbook. Taking up the WEF recommendation for direct government intervention in corporate boardrooms, the Trudeau government will legislate and regulate to ensure sufficient private sector capital is redirected to underwrite its environmental programs.
To turn this trick WEF board member Chrystia Freeland (who is also Trudeau's finance minister) is working with the beforementioned UN Special Envoy on Climate Action and Finance Mark Carney to secure adequate financing for Canada's green agenda. Recall, Carney was a feature speaker at the Glasgow summit to explain how corporate boardrooms and the private sector must invest in countries' global climate change objectives. Carney's foreboding message was that the private sector will be expected to underwrite governments' subsidized development of renewable energy sources. 
Is it only a coincidence that the Bank of Canada announced it is developing new models and data sources to monitor the effects of climate change on the economy? Or that Freeland has secured a much higher debt ceiling to allow for even more government spending in the years ahead?
Minister Freeland and her deputy minister Michael Sabia (a globalist who was parachuted into his position a year ago) are following helpful WEF suggestions regarding new tax revenues for green initiatives. The finance department has had a busy six months floating trial balloons: a wealth tax on high income earners, an increase on the capital gains rate, a variety of new capital gains taxes on the sale of primary residences, and an inheritance tax. There has also been a suggestion to increase the scheduled hikes of carbon taxes on gasoline and home fuel. 
Echoing the WEF presentation scripts, Canadians have already heard that the government's new economic policies are introduced "to fight climate change." In that way, Trudeau's insistence that Canadians must "pay for pollution" becomes a Trojan Horse for the onslaught of new corporate and personal taxation.
The country's green plan may not make rational or economic sense, but why let the facts of the matter get in the way of a global mission. As it is, the federal government is actively implementing a green agenda with two core objectives to decarbonize Canada's economy: shut down Canada's oil and gas industry, and transition Canadians' energy use to renewables sources. 
PM Justin Trudeau and his supporting cast – Guilbeault, Freeland, Carney, Butts, and others – are prepared to strike grand international commitments and then impose the government's heavy hand to achieve their ends, apparently, at any cost.
Next week: the costs of the Trudeau government's green agenda.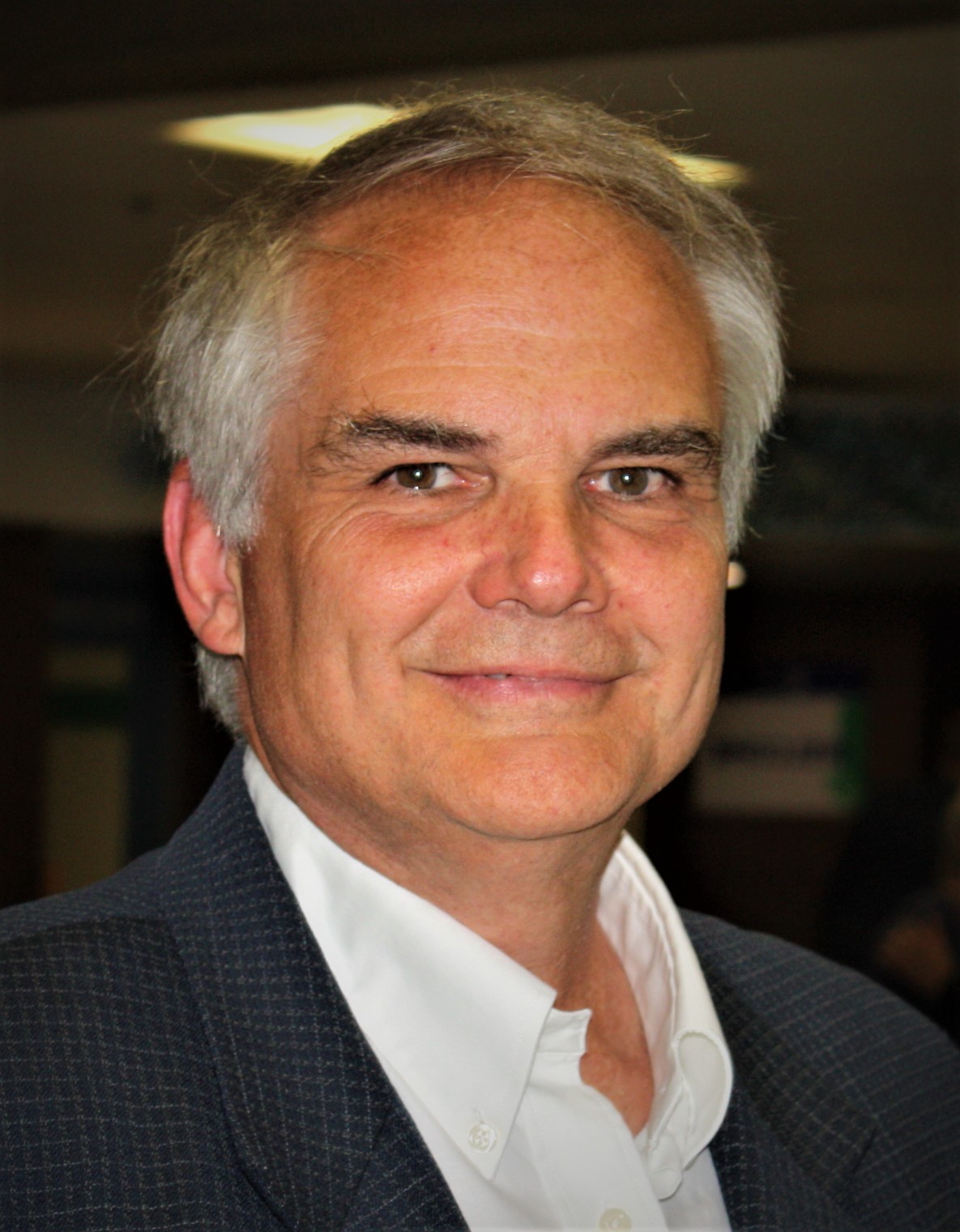 Chris George is an advocate, government relations advisor, and writer/copy editor. As president of a public relations firm established in 1994, Chris provides discreet counsel, tactical advice and management skills to CEOs/Presidents, Boards of Directors and senior executive teams in executing public and government relations campaigns and managing issues. Prior to this PR/GR career, Chris spent seven years on Parliament Hill on staffs of Cabinet Ministers and MPs. He has served in senior campaign positions for electoral and advocacy campaigns at every level of government. Today, Chris resides in Almonte, Ontario where he and his wife manage www.cgacommunications.com. Contact Chris at chrisg.george@gmail.com.