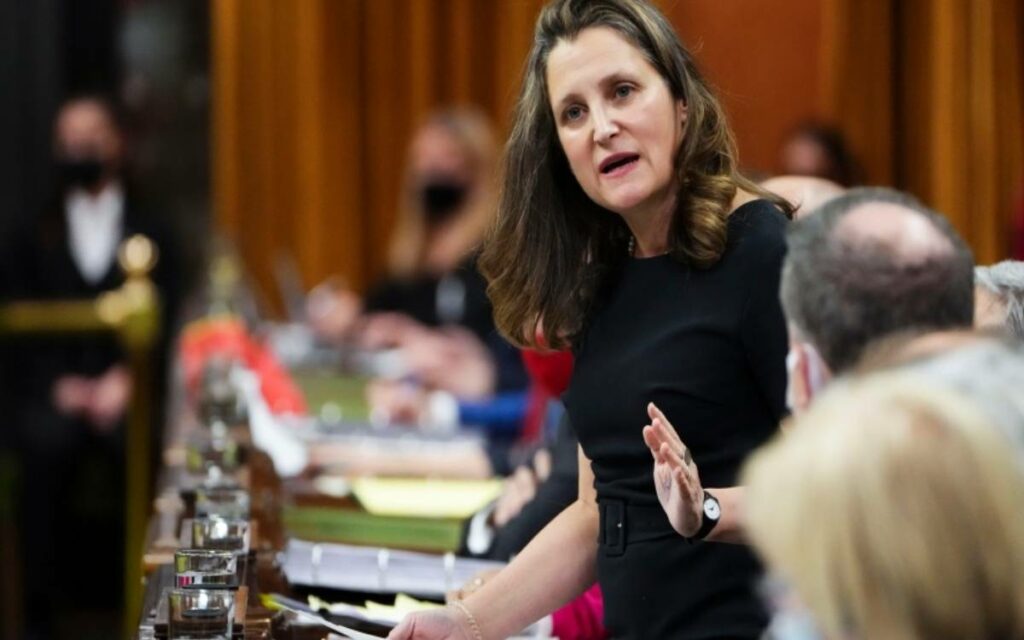 Minister of Finance and Deputy Prime Minister Chrystia Freeland during question period in the House of Commons, Nov. 30, 2021. Photo credit: The Canadian Press/Sean Kilpatrick
Recently released data informs Canadians that "Justinflation" is here for a while – and a new report this week reveals just how much more financial pain will be inflicted in 2022. This data sets the stage for next week's "fiscal update" by Finance Minister Chrystia Freeland, when Canadians are to be told more about the Trudeau government's plans for the country's economic recovery.   
Thursday's news headlines caught everyone's attention: the average family of four in Canada will spend $966 more on the same food in 2022 as they did this year. Canada's Food Price Report forecasts an increase of five to seven per cent in food prices. Everything will rise – dairy, bread, vegetables, fruit, and meat – and it will do so at the highest inflation rate in more than a decade. 
Dalhousie University professor, Sylvain Charlebois, a co-author of the report, cites three factors for this extraordinary increase of food prices. There are the inflated costs of processing the food (i.e. feeding livestock, making food products), rising labour costs, and hikes to transportation costs (most notably increased fuel prices). Charlebois observes 2022 will be difficult, "… meaning wages aren't going up [and] some people are being left behind. That's the biggest concern."
A number of recent economic reports echo this forecast. In its quarterly market report, Farm Credit Canada predicted food prices will keep rising into the "foreseeable future." It forecasts net price increases by wholesalers will average more than eight per cent in 2022. The Bank of Canada is predicting a rise in cost of living to "close to five percent" into 2022. The current Consumer Price Index is recorded at 4.7 per cent. 
The official CPI percentage appears remarkably low when juxtaposed with the Statistics Canada data of year over year price increases of 17 per cent for oranges, 21 per cent for apples, 22 per cent for bacon, 28 per cent for chicken, 29 per cent for pork ribs, and 42 per cent for butter.
The rapid rise in food prices has a majority of Canadians worrying whether they can keep their head above water in the new year. Nanos Research survey for the Globe and Mail found that two in three Canadians were not confident that their pay would keep up with the rising cost of living. Pollster Nik Nanos commented on the findings, "What's absolutely clear is that there is a very high level of anxiety out there among Canadians. They're worried about inflation. They're worried about the price of everyday goods… It's like a pile on of anxiety, because now people are worried about just paying for basic goods."
The association FP Canada confirms this high anxiety with its own national survey that revealed more than one in two Canadians have had sleepless nights over money and their financial concerns.
Canadians' preoccupation over rising costs of living was a reoccurring issue debated in the House of Commons this week. In one exchange PM Justin Trudeau took offense to the term "Justinflation": "For the past weeks, what have we seen from the Conservatives? Telling Canadians that the problems they're facing with increased affordability, increased prices on everything, difficulty buying gas… They've shrugged and said it's "Justinflation". Well, it's not "Justinflation," while they play word games, we have to focus on delivering on housing, delivering on childcare… and the support Canadians need, while they play cheap political games."
Conservative finance critic MP Pierre Poilievre answered the PM's remarks by criticizing him for "not thinking about monetary policy." 
Poilievre stated: "Even after house prices increased by a third, he didn't think monetary policy… Because he only thinks about himself. Won't he admit that what it took for him to start thinking about inflation is when we put his name in the word?" Poilievre would later explain, "… Inflation hits folks who live off income the hardest, because their paycheque is worth less, while helping those people, like him, who live off ancestral assets" (a reference to the fact Justin Trudeau will be supported for life by proceeds from a family trust established with the fortunes of his grandfather's Quebec gas station empire).
The Justinflation rhetorical barbing is a prelude to the government's fiscal update. On Tuesday, Finance Minister Freeland will be putting the best spin on national debt and deficit figures. She is also expected to say something of the government's monetary policy and how it will support the country's pandemic recovery. As underlined in the recent throne speech, the centre piece of the Trudeau government's recovery effort is its green agenda. 
So, Chrystia Freeland's statement will be significant for what it will reveal about how the government intends on achieving its fiscal and economic objectives – which with the Trudeau government is congruent with its green agenda objectives. 
Her statement might be even more significant for what it will not say. Recall the fact that Canada's finance minister is also a board member of the World Economic Forum (WEF). In this position she is responsible for advancing its global financial goals. So, the question will be how Canada's fiscal and economic recovery approach is placed into the context of the global climate change objectives set out by the WEF? 
Try and identify the new climate change policy initiatives to be interwoven with the country's monetary policy. Consider: 
Mark Carney, United Nations special envoy on climate action and finance, has stated that corporate boardrooms and the private sector

must

invest in the global climate change objectives of decarbonization and subsidized development of renewable energy sources. Is it coincidence that the Bank of Canada announced it is developing new models and data sources to monitor the effects of climate change on the economy?

The Liberals' Green Plan "to build back better" has committed $109 billion worth of investments by the federal government over the next 10 year to result in a net-zero economic recovery. This plan hinges on the Canadian private sector investing $681 billion – for every one government dollar invested, the private sector is to invest six dollars.
Further to these points, the WEF advocates for direct government intervention in corporate boardrooms to ensure the private sector capital is redirected to underwrite governments' environmental programs.
It is not expected that Freeland's fiscal update will have such bald statements about bigger government intervening in both central bank monetary policy and private sector investment. 
However, like this week's headlines about "Justinflation" and the rising costs of living, Chrystia Freeland's conflict of interests regarding her WEF agenda suggests that individual Canadians and Canadian businesses are in for hard times ahead.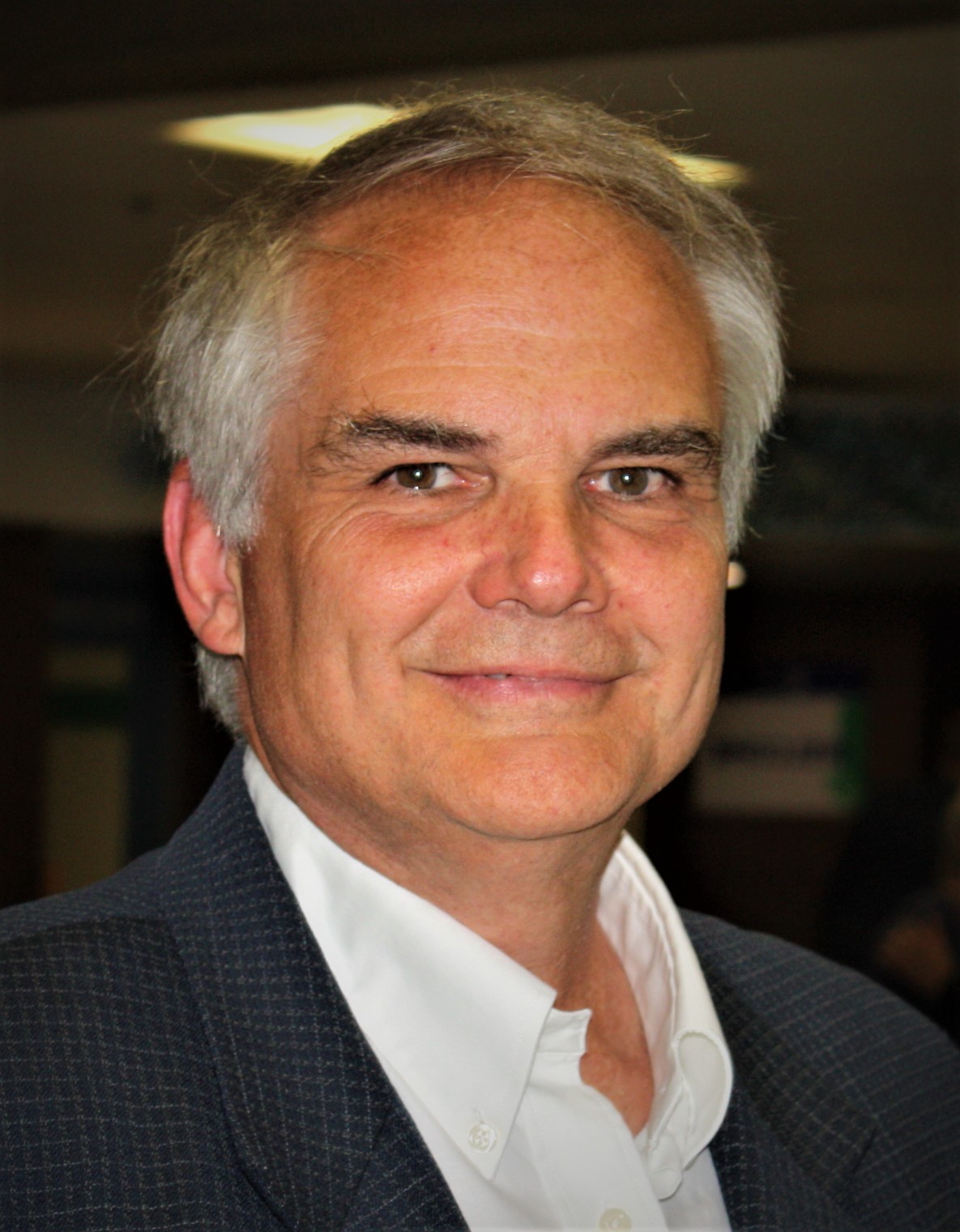 Chris George is an advocate, government relations advisor, and writer/copy editor. As president of a public relations firm established in 1994, Chris provides discreet counsel, tactical advice and management skills to CEOs/Presidents, Boards of Directors and senior executive teams in executing public and government relations campaigns and managing issues. Prior to this PR/GR career, Chris spent seven years on Parliament Hill on staffs of Cabinet Ministers and MPs. He has served in senior campaign positions for electoral and advocacy campaigns at every level of government. Today, Chris resides in Almonte, Ontario where he and his wife manage www.cgacommunications.com. Contact Chris at chrisg.george@gmail.com.