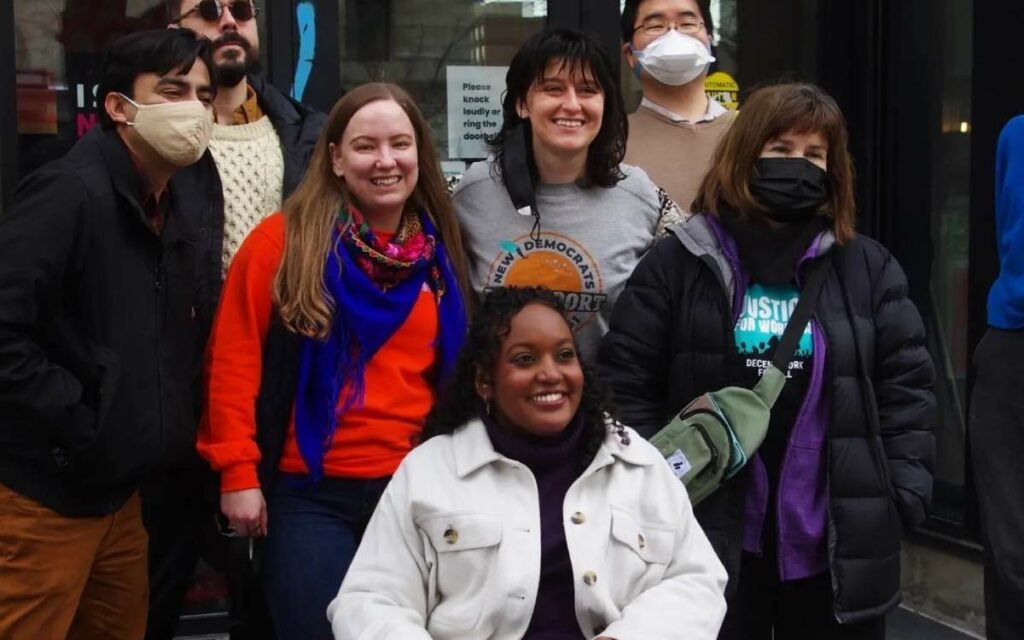 Jama (pictured, centre-front) is running in the Hamilton Centre provincial by-election set to take place this Thursday, March 16. B'nai Brith Canada's CEO Michael Mostyn implored ONDP Leader Marit Stiles to 'do the principled thing' and rescind Jama's candidacy after her involvement with 'radical' anti-Israel groups was revealed. Stiles is standing by Jama. Photo credit: Facebook/Sarah Jama
Hamilton Centre Ontario NDP (ONDP) candidate Sarah Jama is being heavily criticized, yet again, this time for alleged anti-Semitism and endorsement of violent anti-Israel uprisings.
Jama is running in the upcoming March 16 provincial byelection in Hamilton Centre, a seat vacated by current Hamilton Mayor Andrea Horwath. 
Jama has already made headlines in the past for her comments in support of "abolishing" and "dismantling" the police.
She also reportedly had a role in a number of controversial protests including the targeting of Hamilton Mayor Fred Eisenberger's personal residence in a 2020 protest where a mob of people showed up in the dark and left a coffin in front of the mayor's house, saying that there was blood on his hands for continuing to fund the police.
Jama was even arrested at the site of a Hamilton Police homeless encampment clean-up at a local Hamilton park after refusing to cooperate with police. She faced charges, but they were later dropped.
Last week, Jama came under fire from multiple Jewish human rights groups, including B'nai Brith Canada, for alleged anti-Semitism.
The organization called on the ONDP to withdraw Jama's candidacy for her association with controversial anti-Israel groups and her involvement in "radical" anti-Israel events.
B'nai Brith Canada's CEO Michael Mostyn implored ONDP Leader Marit Stiles to "do the principled thing" and rescind Jama's candidacy.
"There should be no room in the Legislature for a member whose demonizing of the Jewish state will only lead to more hate aimed at Jews in Ontario," he added.
Jama has reportedly called Israel an "apartheid state" and a racist country and has been pictured holding a sign that reads "Black lives don't matter in Israel."
Stiles so far has indicated that she fully supports Jama's candidacy.
John Best, local political commentator for local news outlet "The Bay Observer" located social media videos from July 2021 where Jama addressed a pro-Palestinian rally saying that "Hamilton police protect Naziism" and "target Blacks, Muslims, and Palestinians."
In the video she reportedly continued by saying, "We know these systems are corrupt – they need to fall. Disarm, dismantle, abolish the police."
The video has since been removed.
Best questioned the ONDP's decision to keep Jama as a candidate, writing in a column on Wednesday that "these are not teenage posts dredged up from ten years ago – they were made less than two years ago by a well-educated young adult."
Canary Mission, another Jewish human rights group that "documents individuals that promote hatred of Israel and Jews," has compiled 93 screenshots and four videos that they say show Jama "demonizing Israel" and supporting events that call for "freeing terrorists" and for "terrorist violence."
The screenshots appear to show that Jama is a member of the Young Communist League in Hamilton and the Young Communist League of Canada and spoke at a Communist rally.
They also allege that Jama attended events and took part in chants supporting Palestinian intifada (i.e. an act of violent uprising by Palestinian people against Israeli presence in the West Bank and Gaza Strip).
Chants included in the anti-Israel events include "Israel is a racist state," "Israel and USA – How many kids did you kill today," "Viva, Viva, Intifada," and "No justice, no peace."
Jama also supported a move for McMaster University to "boycott, divest, and sanction" Israel, a movement known globally as the BDS movement and highly criticized as having anti-Semitic motivations.
Hamilton Centre is one of the strongest NDP ridings in Ontario.
In June 2022, Horwath and the ONDP received 58 per cent of the vote in June 2022, the PCs 16 per cent, the Ontario Liberals 13 per cent and Ontario Greens 9 per cent.
The Ontario Progressive Conservative Party (PCs) have local police officer Sgt. Pete Wiesner as their candidate.
He has served the Hamilton Police Service (HPS) for 22 years and has been the Supervising Sergeant of the Crisis Response Branch since 2019. He was formerly a Corrections Officer at the Hamilton-Wentworth Detention Centre. His current role has him working with community partners to respond to issues relating to homelessness, addiction, and mental health.
Hamilton Spectator columnist Deidre Pike, who is a "social justice researcher and consultant", is running for the Ontario Liberals.
Meanwhile, the Ontario Greens have nominated Lucia Iannantuono, a hardware designer who grew up in Muskoka but moved to Hamilton to study electrical engineering.
By-election voting will run from 9AM until 9PM on Thursday, with results expected to come in shortly after polls close.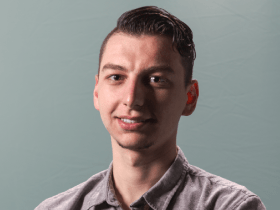 Based in Hamilton, he reaches hundreds of thousands of people monthly on Facebook, Instagram, TikTok, and Twitter. He has been published in The Hamilton Spectator, Stoney Creek News, and Bay Observer. He has also been a segment host with Cable 14 Hamilton. In 2017, he received the Chancellor Full Tuition Scholarship from the University of Ottawa (BA, 2022). He has also received the Governor General's Academic Medal. He formerly worked in a non-partisan role on Parliament Hill in Ottawa.