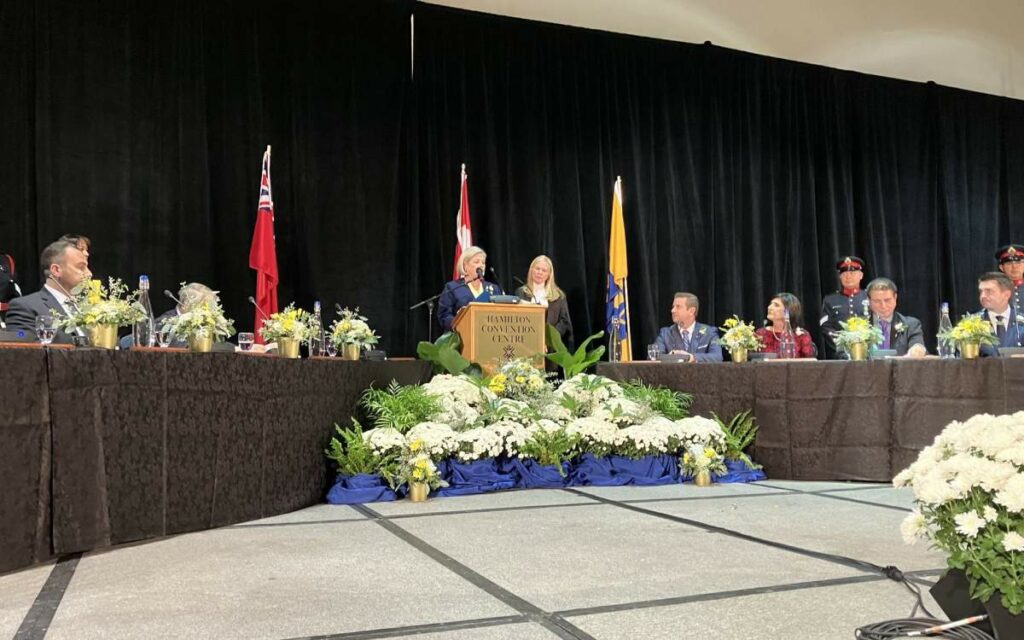 The majority of Council, including the mayor and nine of the 15 members, were not around the municipal table last term. Pictured is newly-elected mayor Andrea Horwath being sworn in at the Hamilton Convention Centre, Nov. 16, 2022. Photo credit: Twitter/City of Hamilton
The 2022-2026 Hamilton City Council was officially sworn-in during a public ceremony in the evening on Wednesday, November 16.
A few hundred people were in attendance at the Hamilton Convention Centre. In addition to the ceremony, newly elected mayor Andrea Horwath gave her inaugural address.
Horwath, who was formerly the leader of the Ontario NDP, is the first woman to be elected as Hamilton's mayor. She declared that it is "a new era."
The city's 15 elected councillors gave their oath of allegiance. Nine of those 15 are brand new to the Council table, including Cameron Kroetsch (Ward 2), Tammy Hwang (Ward 4), Matt Francis (Ward 5), Jeff Beattie (Ward 10), Mark Tadeson (Ward 11), Craig Cassar (Ward 12), Alex Wilson (Ward 13), Mike Spadafora (Ward 14), and Ted McMeekin (Ward 15).
Maureen Wilson (Ward 1), Nrinder Nann (Ward 3), Tom Jackson (Ward 6), Esther Pauls (Ward 7), John-Paul Danko (Ward 8), and Brad Clark (Ward 9) are all returnees, having already served during the previous 2018-2022 term.
A welcoming ceremony was given by Joseph Martin on behalf of the Six Nations of the Grand River elected Council. The Argyll and Sutherland Highlanders of Canada were also involved in a salute that included bagpipes.
Outgoing mayor Fred Eisenberger was in attendance. Horwath thanked him for his service to Hamilton, saying that he "laid the groundwork for our city to excel."
Horwath's address lasted about 20 minutes.
She said that housing affordability is the "number one issue" she heard about during the campaign.
"We will work together to eliminate the affordable housing waitlist by collaborating with not-for-profit housing organisations, private market developers and provincial and federal governments to get projects started fast," said Horwath.
"I feel grateful to be surrounded at the council table by so many unique and diverse voices, all of whom are passionate about making Hamilton the thriving city it can be, the success story it should be," she continued.
Horwath also declared that "safe, healthy, affordable housing is a basic human right" and that the city must work hard to tackle "hate, systemic racism, and discrimination in all their forms."
She also spoke about transit, pedestrian, and cyclist safety, stopping hate incidents, supporting the labour movement and good jobs, and contributing to economic growth.
Her statements about economic growth included references to Hamilton's manufacturing industry, postsecondary institutions, healthcare network, the film and television sector, agribusiness, and Hamilton's role as a regional logistics hub with its deep-water port, airport, rail and highway system.
The first motion was also passed, appointing who will serve on each board and committee.
Among some of the most-followed boards by citizens and the media are the Hamilton Police Services Board and CityHousing Hamilton Corporation Board.
The three Council appointees to the Hamilton Police Services Board are Mayor Andrea Horwath, Councillor Cameron Kroetsch, and Councillor Esther Pauls.
The five Council appointees to the CityHousing Hamilton Corporation Board are Councillor Cameron Kroetsch, Councillor Nrinder Nann, Councillor Tammy Hwang, Councillor Ted McMeeking, and Councillor Alex Wilson.
The first official council meeting is Wednesday, December 7 at 9:30AM.
Based in Hamilton, Ontario, Kevin Geenen reaches hundreds of thousands of people monthly on social media. He is a regular contributor with The Hamilton Independent and has been published in The Hamilton Spectator, Stoney Creek News, and Bay Observer. He has also been a segment host with Cable 14 Hamilton. He is known for Hamilton Neighbourhood Watch crime updates and no-nonsense news graphics. In 2017, he received the Chancellor Full Tuition Scholarship from the University of Ottawa and later graduated with a Bachelor of Arts. He also received the Governor General's Academic Medal from Governor General David Johnston and formerly worked in a non-partisan role on Parliament Hill in Ottawa. He is currently employed as an Office Administrator at RE/MAX Escarpment. His journalistic work is independent of his other positions.