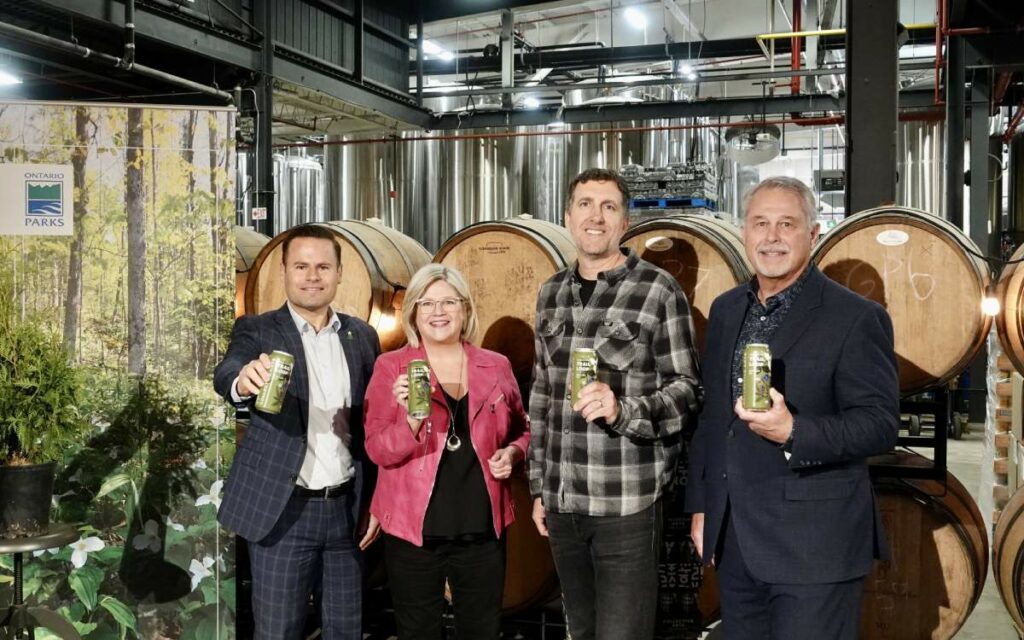 Ontario's environment minister David Piccini (left) and tourism minister Neil Lumsden (right) were on hand at Hamilton's Collective Arts Brewing Thursday to announce the partnership. Also pictured are Mayor of Hamilton Andrea Horwath and brewery CEO Matt Johnston. Photo credit: Twitter/Neil Lumsden
Ontario Minister of Environment, Conservation, and Parks David Piccini was in Hamilton on Thursday to announce that the Government of Ontario will be partnering with Hamilton-based brewery Collective Arts Brewing to help with a reforestation project.
The partnership involves the production of a limited-edition specialty craft beer, called Trail Loop, with proceeds going directly towards supporting reforestation at Balsam Lake Provincial Park in Ontario.
Balsam Lake Provincial Park is part of the Ontario Parks network, located near Kawartha Lakes, Ontario, which is about an hour and a half drive north of Oshawa.
The park was established in 1968 and is classified as a Recreation Class Park, featuring boating, fishing, camping, and hiking. It is on the Trent-Severn Waterway.
The beer is a Honey Lager, brewed with locally sourced honey.
Piccini was joined by Minister of Tourism, Culture, and Sport Neil Lumsden for the announcement in Hamilton. In addition to serving as tourism minister, Lumsden is the local Member of Provincial Parliament (MPP) for Hamilton East-Stoney Creek.
Ontario Parks and Collective Arts Brewing had a similar partnership last year, with the collaboration raising nearly $6,000 in 2022.
Piccini commented that "Ontario is always looking at new, innovative ways to partner with local businesses to help protect the biodiversity of our provincial parks and conservation reserves."
"This partnership is a true made-in-Ontario story – a delicious craft beer by a renowned Ontario brewer, with locally sourced ingredients and original artwork by a local artist in support of one of the province's beloved parks. I look forward to raising a can of Trail Loop to toast our work to ensure the forest at Balsam Lake Provincial Park remains healthy and vibrant for years to come."
Lumsden added, "When we can champion an innovative partnership that restores our provincial parks and promotes Ontario's craft breweries, you can bet our government will proudly support it."
The reforestation project itself will involve planting more than 1,000 new trees.
Ontario Parks will be planting native tree species to help restore the tree canopy in the provincial park. Those include the Sugar Maple, Paper Birch, White Cedar, and Red Oak.
Invasive species removal is also part of the reforestation project.
Mike Cappello, park superintendent at Balsam Lake, says that reforestation will "help bring diversity back into the habitat."
"The team at Balsam Lake Provincial Park is grateful to be the recipient of this collaboration.
We look forward to planting even more trees this year as we work toward rebuilding this special and treasured green space," he continued.
"Working with Ontario Parks on our collaborative beer and merchandise has been fulfilling to say the least."
Fittingly, the outside of the can is designed by Gosia Komorski, a Toronto-based artist who spent her childhood summers camping at Balsam Lake. She now visits the park with her daughter.
The limited-edition beer is already available for purchase through Collective Arts Brewing and at select grocery stores across Ontario. It will also be available at The Beer Store later in May.
Along with the beer, special merchandise is available for purchase at collectiveartsontario.com.
Thirty cents from each can of Trail Loop sold and 50 per cent of all merchandise sales will go directly to the reforestation project.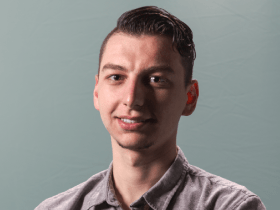 Based in Hamilton, he reaches hundreds of thousands of people monthly on Facebook, Instagram, TikTok, and Twitter. He has been published in The Hamilton Spectator, Stoney Creek News, and Bay Observer. He has also been a segment host with Cable 14 Hamilton. In 2017, he received the Chancellor Full Tuition Scholarship from the University of Ottawa (BA, 2022). He has also received the Governor General's Academic Medal. He formerly worked in a non-partisan role on Parliament Hill in Ottawa.