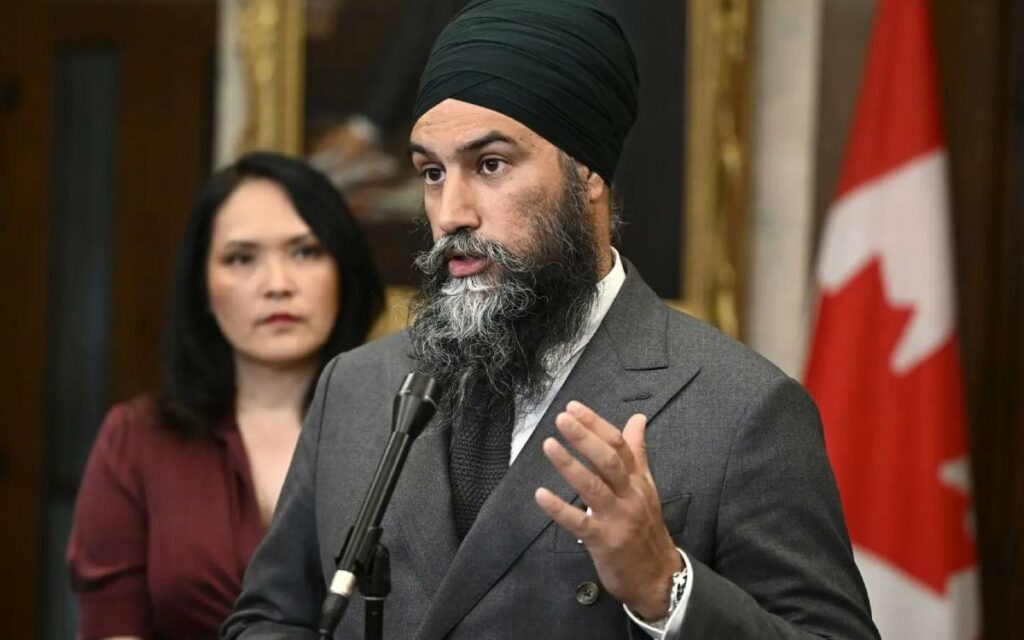 Together, the NDP leader (pictured) and hand-picked special rapporteur continue to allow PM Trudeau to stay in power, get away with everything he gets away with, and ultimately deny the Canadian people what they're owed: answers. Photo credit: The Canadian Press/Justin Tang
It has been another incredible week in the Nation's Capital with many twists to the storyline of Parliament's attempts to uncover facts about the Chinese Communist Party's (CCP) influence within Canada. Despite a cacophony of demands for an independent public inquiry into the tangled affairs of the CPP, NDP Leader Jagmeet Singh and the PM's Special Rapporteur David Johnston continue to provide their cover for Justin Trudeau and the governing Liberals.  
Polling indicates that the Trudeau government's ongoing hold out to call a public inquiry is taking a toll on its support (Liberal support trails Conservative's 36 to 27 per cent in the latest Nanos Research survey). The revelations about CCP threats to MPs and the government's apparent failure to inform those in danger are weighing heavy on the minds of Canadians. In a Hill Times interview, pollster Nik Nanos states, "people are just wondering what took the Liberals so long to tell Michael Chong, what took them so long to eject the Chinese diplomat. And they want to know who knew what, when."
An Angus Reid poll that was taken after Special Rapporteur David Johnston issued his report, which advised a public inquiry was not needed, showed this conclusion is offside with the Canadian public. One in two (52 per cent) Canadians think an inquiry should be called; three in four (73 per cent) Canadians who are watching this foreign interference issue closely believe Johnston is the wrong choice to be reviewing the matter; and, three in five (63 per cent) Canadians are not confident the Trudeau government will act to combat foreign interference. 
All of this dissatisfaction and non-confidence was expressed before the news broke that Hong Kong-born, Vancouver-East MP Jenny Kwan is on a CCP target list, a "person of interest," due to her vocal support of the people of Hong Kong in the face of the CCP takeover. NDP MP Kwan stated this week that CCP are active in Canada, "It is happening. It is impacting Canadian society. It is impacting us all. It is damaging to our democratic system. It is threatening to some Canadians who are very active in their fight for basic human rights and democracy. Despite this, the Liberal government does not see the importance of why, in looking into these matters, there should have been a public inquiry right at the outset."
Jenny Kwan tabled a NDP motion in the House of Commons this week to remove David Johnston and to launch a public inquiry. Kwan summarized in the motion, "Serious questions have been raised about the special rapporteur process, the counsel he retained in support of this work, his findings, and his conclusions… only a full public inquiry can fully restore the confidence of Canadians in the integrity of our democratic institutions…" 
Kwan's motion passed the House of Commons with parliamentarians voting Party lines: 174 to 150. MPs from all four opposition parties voted for the motion and all Liberals voted against. This vote in Parliament is a clear statement of Canada's elected body on what the government's next step should be – except Jagmeet Singh had undermined the will of Parliament as his very own caucus colleague was leading the debate. 
While the NDP Leader made great headlines to criticize the Liberals for not permitting a public inquiry on foreign interference, at the same time Singh stated he would continue to support the Liberal minority government in spite of the outcome of the debate. Accordingly, Kwan's motion was to be a non-binding NDP motion. Singh took to the airwaves to assure all concerned prior to the vote that "a deal is a deal" and the PM still has the confidence of the NDP irrespective of his actions respecting his special rapporteur or a public inquiry.     
In other words, the NDP motion and Kwan's debate was moot. News columnist Rex Murphy sums up best the parliamentary charade that unfolded this week. "There are only two people to bear the burden of the short-circuiting of Canadian democracy. They are the Prime Minister. And Jagmeet Singh. Singh enables. Trudeau rules. They have made a pernicious pact that neuters our Parliament and defeats and mocks accountability."
The man at the centre of controversary, David Johnston, also made headlines that defy Canada's democratic foundations. In the wake of the news that Parliament had indicated he and his rapporteur project must step aside for an independent public inquiry Johnston issued a media statement that stated he is carrying on. 
Johnston wrote: "… as I have indicated, there is much work yet to be done and a further public process is required. I deeply respect the right of the House of Commons to express its opinion about my work going forward, but my mandate comes from the government. I have a duty to pursue that work until my mandate is completed."
Political columnists of the national press core were unimpressed with Johnston's response. National Post scribe John Ivison stated: "The undermining of Canadians' trust will continue as long as David Johnston remains" while colleague Sabrina Maddeaux wrote, "David Johnston determined to destroy faith in democracy," while suggesting "a parliamentary crisis is brewing thanks to the former governor general."
Perhaps Joe Warmington of Postmedia assesses Johnston's response the best when he tweeted: "At least David Johnston is being honest. He works for Trudeau and no one else. It means it's not a serious probe but one the government is in charge of. By not listening to the will of the elected house, Johnston is demonstrating his allegiance to the PM. But people now understand."
As a related note, Johnston's deftness to the will of Parliament was also on display with his refusal to appear before a committee of MPs studying the irregularities with the Trudeau Foundation and its nefarious dealings with Beijing operatives. 
Through the week Johnston may have been cast as a "dead-man walking," but opposition MPs did not lose sight that Justin Trudeau and his political operatives were orchestrating the powerplays to avoid divulging anything more than they have to on the CCP activities in Canada.  Conservative MP Andrew Scheer observed, "Trudeau doesn't actually value Parliament, doesn't actually believe in our democratic institutions, and doesn't care whose reputation he destroys in his quest to cling to power and to keep the truth hidden on this."
Yves Francois Blanchet, the BQ leader, stated: "What we are seeing now is a government which is paying a heavy political price to hide something. The question is what the hell is he trying to hide?", and then he pledged, "We are not going to abandon this until the government abides by the fundamental rules of democracy and provides Canadians with all the facts in a credible process."
Still the PM remains confident that his government can continue to thwart the will of Parliament with the seemingly unconditional cover that is being provided by two trusted enablers: Singh and Johnston. 
By week's end pundits assessing Ottawa's political impasse began the whispers of a possible prorogation of Parliament and, even perhaps, an election. All with the goal to keep the facts buried relating to the CCP influence in Canada and, more importantly, the ties between the CPP and Trudeau Liberals. 
It does seem ironic to consider that only an election may save Canadian democracy – both from foreign influences and from itself.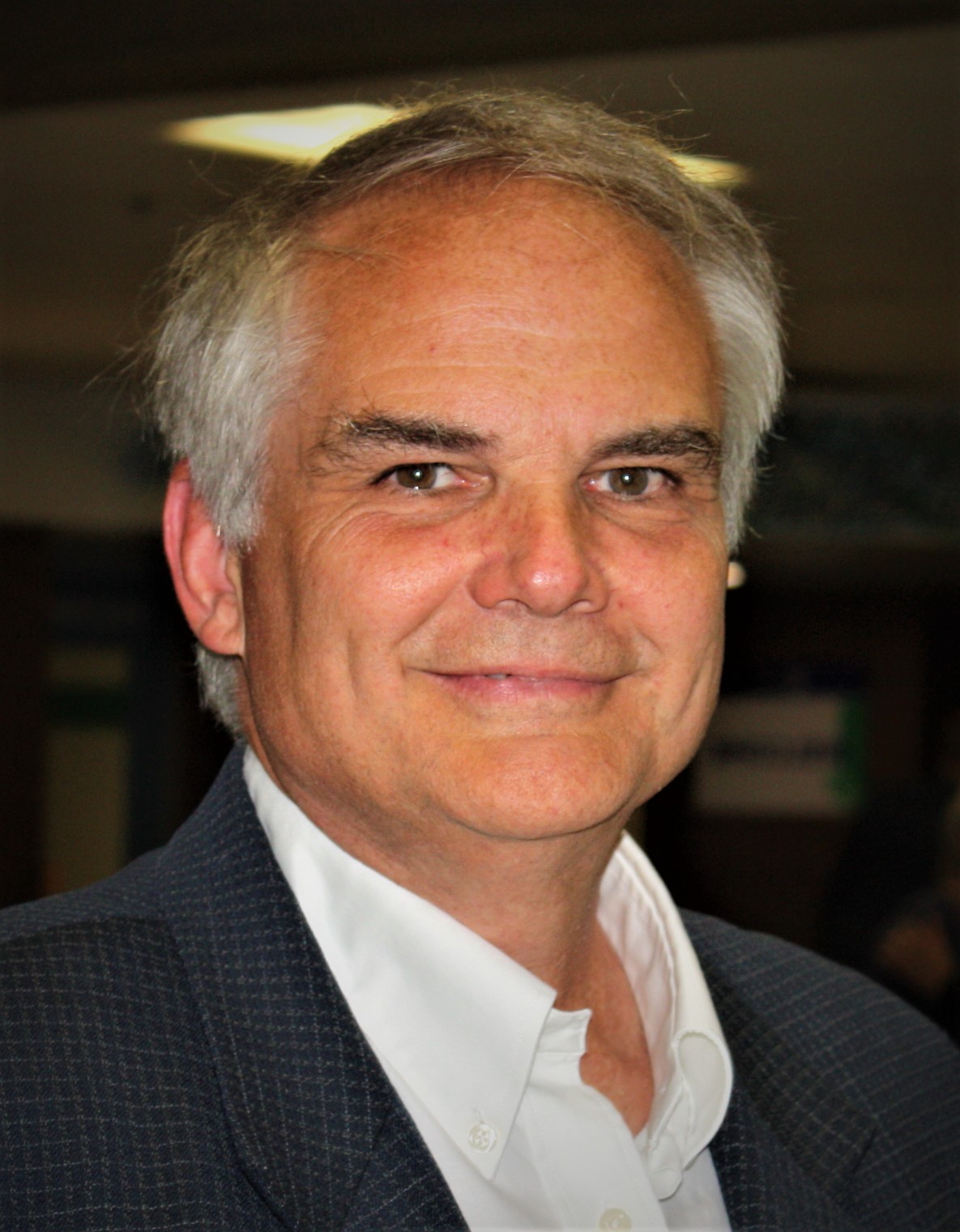 Chris George is an advocate, government relations advisor, and writer/copy editor. As president of a public relations firm established in 1994, Chris provides discreet counsel, tactical advice and management skills to CEOs/Presidents, Boards of Directors and senior executive teams in executing public and government relations campaigns and managing issues. Prior to this PR/GR career, Chris spent seven years on Parliament Hill on staffs of Cabinet Ministers and MPs. He has served in senior campaign positions for electoral and advocacy campaigns at every level of government. Today, Chris resides in Almonte, Ontario where he and his wife manage www.cgacommunications.com. Contact Chris at chrisg.george@gmail.com.