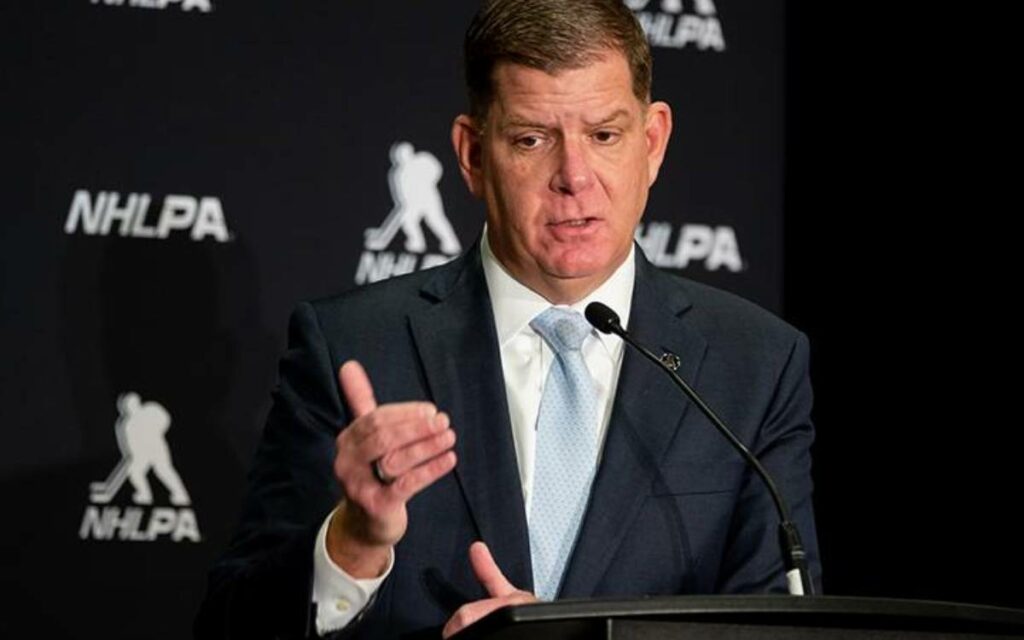 Most fans' interest remains on the ice at the start of a new NHL season. Nonetheless, some off-ice developments include the appointment of a new NHLPA head. Photo credit: NHLPA
Earlier this year, Marty Walsh took the reins as executive director of the NHL's players' union. Walsh, whose last job found him a member of Joe Biden's cabinet, has also served as the mayor of Boston, a city that loves its sports and has a long history of hockey. But what's the skinny on Walsh, and how did he become executive director of the National Hockey League Players' Association? 
Walsh's impressive rise through the union ranks began back in 1988. At age 21, he secured his first union card and became the head of Boston Laborers Local 233 in 1989. By 2011, after serving in the Massachusetts House of Representatives representing the 13th Suffolk District for 14 years, Walsh became president of Boston's Building and Construction Trades Council. 
He used that platform to run successfully for mayor of Boston in 2014. Interestingly, Walsh, a Democrat, developed strong relationships with developers and oversaw a building boom in Boston. Working counter-intuitively on two other matters, Walsh guided a provision through Boston's council that added 40 minutes to every school day and supported Boston's bid for the 2024 Olympic Games. He maintained his liberal bona fides on many other issues and won re-election in 2017, before Biden named him Labor Secretary in 2021. 
As for his hockey history, Walsh has been a long-time season ticket holder to Bruins' games. One of his friends growing up in the Dorchester neighbourhood of Boston was Kevin Hayes Sr. His son, Kevin Hayes Jr., plays for the Philadelphia Flyers. The friendship with the Hayes family extends to New Jersey General Manager Tom Fitzgerald and both Tzakcuk brothers, Matthew and Brady. On the downside, there have been suggestions that Bruins' owner Jeremy Jacobs (also chair of the NHL Governors' Board) and Red Sox owner John Henry (who also owns the Pittsburgh Penguins) have helped fund Walsh's campaigns while mayor of Boston. 
Negotiations leading up to a new labour deal with the NHL probably most concern fans. In 2026, the latest pact will expire. Don Fehr oversaw the last two agreements in 2013 and 2020. How Walsh decides to prepare for the talks will be something everyone in the hockey world will pay attention to as the season unfolds. One of the items Walsh hopes to address is the NHL's participation in the Olympic games, something missing since 2014. While Walsh would like to see the players back in action at the quadrennial event, NHL commissioner Gary Bettman and the owners see things differently. They don't like closing down in February for a few reasons. Primarily, they don't like the lack of financial insurance the International Olympic Committee (IOC) offers players. Beyond that, they are uncomfortable closing the league in February, a good ratings month. Football wraps up, and baseball has not started. Whether Walsh can change their minds will give everyone a sense of his capacity to lead during tricky discussions that will usher in a new deal between the league and its players in 2026.
Walsh's personal life may tell us how long he plans to keep this job and his future ambitions. At 55, he recently welcomed his long-time partner's daughter's son like a grandfather. Walsh seems devoted, recently telling David Bernstein of Boston's City Life magazine, "He's just a baby now, but he'll easily be able to get whatever he wants out of me for the rest of his life." Walsh's ambitions remain large. Will he be satisfied to oversee the Association long-term? 
His deep roots in Boston suggest he could be eyeing a return to the political stage if the right offer surfaced. His loyalties run deep in Beantown. While in Washington, he lived in a hotel and returned to his hometown every weekend. He still gets his hair cut at Boston Barber & Tattoo Company and never stopped attending his local Alcoholics Anonymous meetings, according to Bernstein. His continuing presence in the city, his willingness to help citizens find help, and his involvement with several organizations could cause people to think he has plans to return to city or state politics. 
Speculation aside, Walsh's responsibilities with the players include the following priorities, as reported in an article Greg Wyshynski filed for ESPN:
Olympics/World Cup 
The effort to grow the game rests on international competition. As mentioned earlier, Walsh and the players want to return to the Olympics. By 2026, a dozen years will have passed since Canada won Gold, dominated the tournament, and NHL players last participated. But the interest in expanding the footprint of NHL hockey also includes holding the World Cup of Hockey regularly. Walsh's mandate is to get the tournament (dormant since 2016) up and running every 4-5 years and use it as a showcase for the world. 
Finally, the NHL's global series will continue to seek further locations. The league scheduled exhibition games in Australia and includes regular games in Sweden, with hopes to increase its appeal to Latinos in North America. "We have teams like the Dallas Stars and the Coyotes and even the Panthers to some degree: large Latino populations," Walsh said. "You think of Boston — are we tapping into Latino populations in Boston, New York, Chicago, places like that?"
Whether to attack the salary cap 
The business of the NHL looks healthy. Revenues are growing, media rights are stable, and the potential for further growth exists. Of concern to the players, the salary cap, set at 70.2 million dollars in 2012-13, has only grown to 83.5 million dollars in 2023-24. The pandemic had an impact, but the value of franchises continues to grow. Walsh remains concerned that players are not sharing in that new-found wealth. Unless the League decided to try and change the 50-50 split on revenue, there would not likely be a fight over the cap. If the League pursued changes in the cap agreement, the players would balk, forcing labour issues to inflame.  
Expanding playoffs, regular season 
When the league had six teams, four teams qualified. Today, there are 32 teams, and 16 qualify. If the League kept pace with the Original Six era, at least 20 teams would make the playoffs. Enhanced revenues would be available if more teams participated in post-season action, but the League is happy to keep the number at 16. Walsh did not seem to overstep his mandate, telling ESPN, "I have not had those conversations yet. I would talk to the players to see what they feel about it and then make a proposal or presentation to League," he said. "But as a sports fan, I've certainly seen that happening. I've watched the play-in games in the NBA and the NFL add another team in there." As for the regular season, a proposal to increase the regular season from 82 games to 84 games has only been discussed at the executive level, never reaching the players' association. 
Relocating the Coyotes 
The situation in Arizona vexes all levels of hockey strata. Fans, players, owners, media, management, and coaches believe the problem needs quick resolution. Walsh insists that his players should be in an NHL facility. Presently, the Coyotes play out of Mullett Arena, a 5,000-seat building constructed to house a university team. 
Walsh spoke at length to Wyshynski on the issue, stating, "I've been very clear. I said these players deserve to play in an NHL arena. The ownership of the Coyotes is working to try and find a location. And if we have ground broken in the near future, really soon, then that means an arena's coming. At that point, you can go to the players and say to them, 'You're going to be in this stadium for two or two-and-a-half more years, but there's a new arena being built on the street.' That's a whole different ballgame from going into the season not having a location; that changes those dynamics." He wants clarity in the next several months about the Coyotes' future.
Ban on specialty warm-up Jerseys
The labour negotiator in Walsh surfaces when dealing with a hot topic like specialty jerseys. Walsh did not want to make the issue more than it deserves, and he was strongly opposed to penalizing players who refused to wear pride jerseys, but he did indicate his disappointment in players not wanting to celebrate Pride Nights or other causes like Black Lives Matter. He recognizes that efforts to support these groups can continue and is optimistic of revisiting the issue one day. Like a good liberal, he reiterated his pride in having voted for marriage equality in 2007 and ended his comments on the subject with the adage that we all need to do better. 
For the sake of hockey fans, let's hope both sides do better than they did in recent labour disputes when they lost a whole season and severely impacted another one.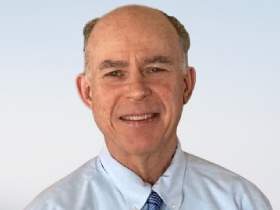 Dave Redekop is a retired elementary resource teacher who now works part-time at the St. Catharines Courthouse as a Registrar. He has worked on political campaigns since high school and attended university in South Carolina for five years, where he earned a Master's in American History with a specialization in Civil Rights. Dave loves reading biographies.