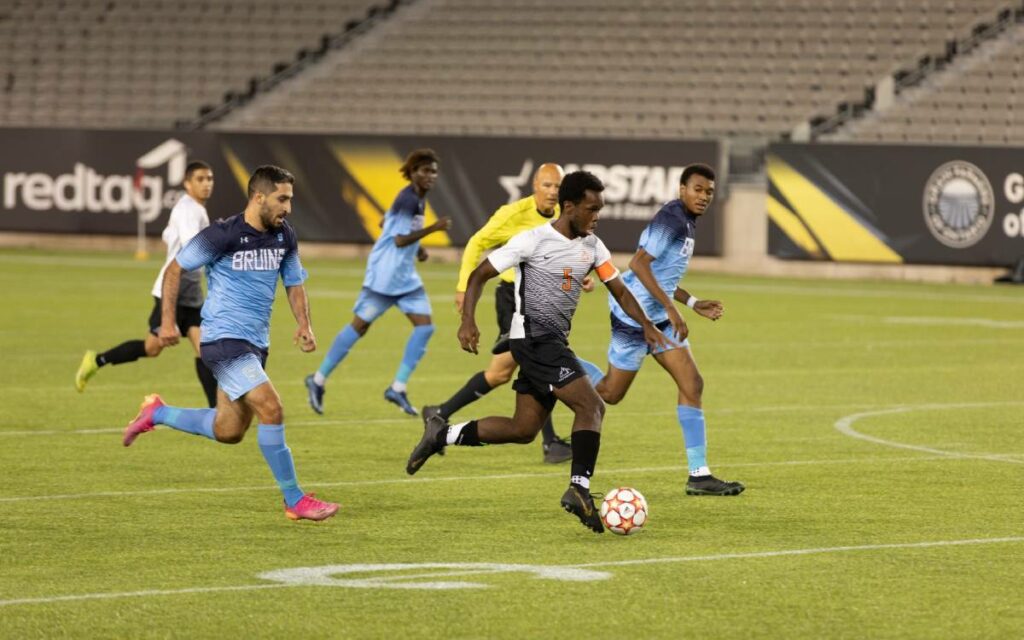 Photo credit: Mohawk College
Mohawk College Soccer has a brand-new home: Tim Horton's Field. The Mohawk Mountaineers announced on June 16 that they are partnering with the City of Hamilton to have all of their 2022 soccer home games played at Tim Horton's Field. The move includes both the men's and women's soccer teams. 
Making the announcement even more special is that Mohawk is now the very first Ontario Colleges Athletic Association (OCAA) institution to call a professional stadium its home field.
Tim Horton's Field now hosts a number of local teams: the Hamilton Tiger-Cats of the Canadian Football League (CFL), Forge FC of the Canadian Premier League (CPL), and the Hamilton Hurricanes of the Canadian Junior Football League.
When the stadium opened, at the same site as the old Ivor Wynne Stadium, it was always hoped that other teams would be allowed to play their games at the venue. With the recent announcement from Mohawk College, this plan for more community usage is being realized more and more.
Tim Horton's Field officially opened in 2014 and has held Pan-Am Games competitions, the 2021 Grey Cup, a FIFA World Cup qualification match between Canada and the United States, and the 2022 NHL Heritage Classic between the Toronto Maple Leafs and the Buffalo Sabres. It also hosted a Hamilton Bulldogs outdoor hockey game.
Mohawk College Director of Athletics and Recreation Matt Ferreira is ecstatic about what the move means for the Mountaineers.
"The move to this first-class stadium matches with the Mountaineers high-performance mindset and will provide our soccer teams a site they can call theirs," he said.
The first games at the field will be on Wednesday, September 14, 2022 against cross-city rival the Redeemer Royals. The women's game will start at 6 p.m. followed by the men's game at 8 p.m.
The other four matchups this fall at Tim Horton's Field will be against the Niagara Knights (Sept. 23), Conestoga Condors (Sept. 28), Fanshawe Falcons (Oct. 5), and Sheridan Bruins (Oct. 12).
The full Mohawk men's and women's soccer schedules can be found online. Ticket details are not yet available, but will be provided by the Mountaineers in the near future.
Based in Hamilton, Ontario, Kevin Geenen reaches hundreds of thousands of people monthly on Facebook, Instagram, TikTok, and Twitter. He is a regular contributor with The Hamilton Independent and has also been published in The Hamilton Spectator, Stoney Creek News, Niagara Independent, and Bay Observer. He has also been a segment host with Cable 14 Hamilton. He is known for Hamilton crime updates and social media news graphics. In 2017, he received the Chancellor Full Tuition Scholarship from the University of Ottawa (BA, 2022). He has also received the Governor General's Academic Medal from Governor General David Johnston. He formerly worked in a non-partisan role on Parliament Hill in Ottawa.