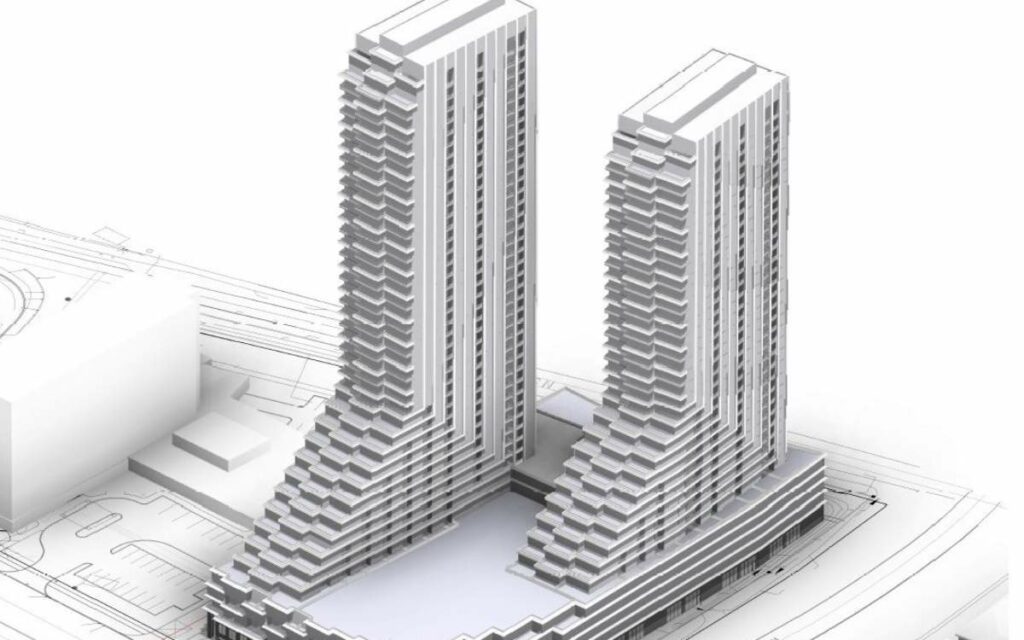 The lot was designated in 2010 as having no maximum density or height regulations. Rendering of the near 1,000-unit development. Photo credit: Graziani + Corazza Architects/Hi-Rise Group
A new 949-unit development is planned for two new buildings beside Seasons Retirement Home on Shoreview Place in Stoney Creek.
The building application is put forward by Hi-Rise Developments on behalf of Seasons Retirement Communities. But while the current nine-storey building on site is a seniors' residence, it appears that the new buildings would be residential units open to the general population.
If approved, the current Seasons Retirement Home building would be overshadowed by new 43-storey and 36-storey residential towers.
The proposed construction site is at 8 Shoreview Place in Stoney Creek which is by the lakefront north of the QEW near Millen Road and North Service Road.
The Site Plan Application was filed with the City of Hamilton on December 20, 2022.
The land is currently a vacant lot.
The plan proposes 1,161 parking spaces, 48 of which would be used by the retirement home. Car parking would be joined by 496 bicycle parking spaces, and 4,133 square metres of indoor and outdoor amenity space.
Additionally, 16 of the units would be live-work units (presumably at the ground level).
The parking ratio is 1.17 parking spots per unit.
The two new towers would be joined "with various step backs to the 8th floor amenity area all connected via 6-storey podium."
The lot was specifically designated in 2010 as having no maximum density or height regulations.
In terms of unit living options, 80 per cent of the rooms would be one-bedroom units, 18 per cent two-bedroom units, and two per cent would be three-bedroom units (22 units).
Along with the involvement of Hi-Rise, the planning firm is UrbanSolutions and the architects for the project are Graziani + Corazza.
The Stoney Creek lakefront area has seen a number of proposals lately. A nearby lakefront development at North Service Road and Green Road has also been proposed and is awaiting final approval.
That plan, by New Horizon Development Group, is for three residential buildings of 34, 44 and 37 storeys at 310 Frances Avenue.
Winona's LIUNA Gardens property is also likely slated for development with Fengate LIUNA Gardens Holdings seeking to build 1,212 housing units as part of two 24-storey and two 15-storey condominium buildings.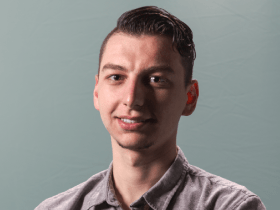 Based in Hamilton, he reaches hundreds of thousands of people monthly on Facebook, Instagram, TikTok, and Twitter. He has been published in The Hamilton Spectator, Stoney Creek News, and Bay Observer. He has also been a segment host with Cable 14 Hamilton. In 2017, he received the Chancellor Full Tuition Scholarship from the University of Ottawa (BA, 2022). He has also received the Governor General's Academic Medal. He formerly worked in a non-partisan role on Parliament Hill in Ottawa.