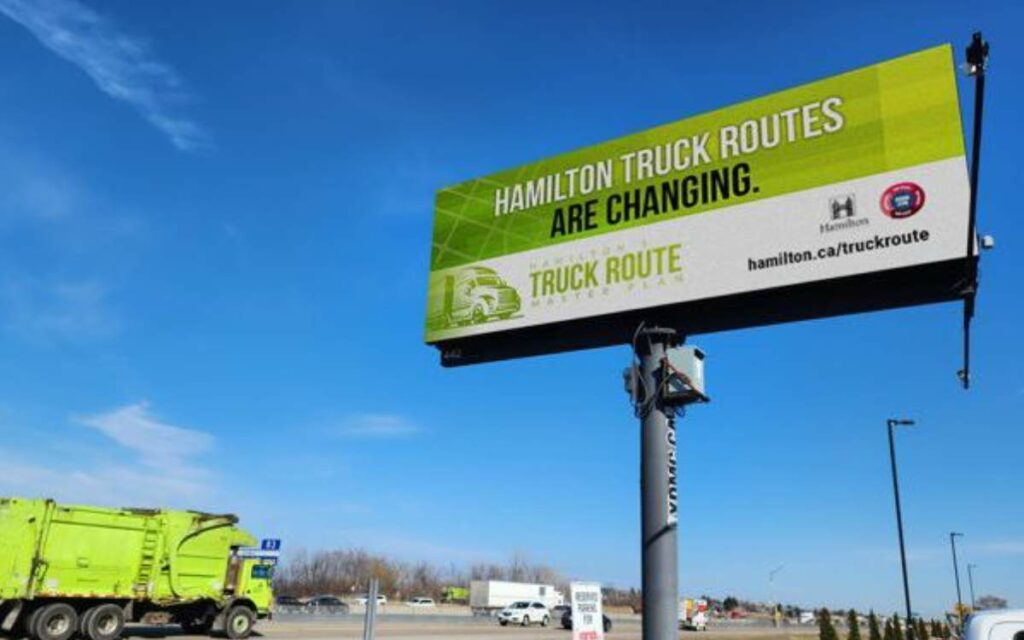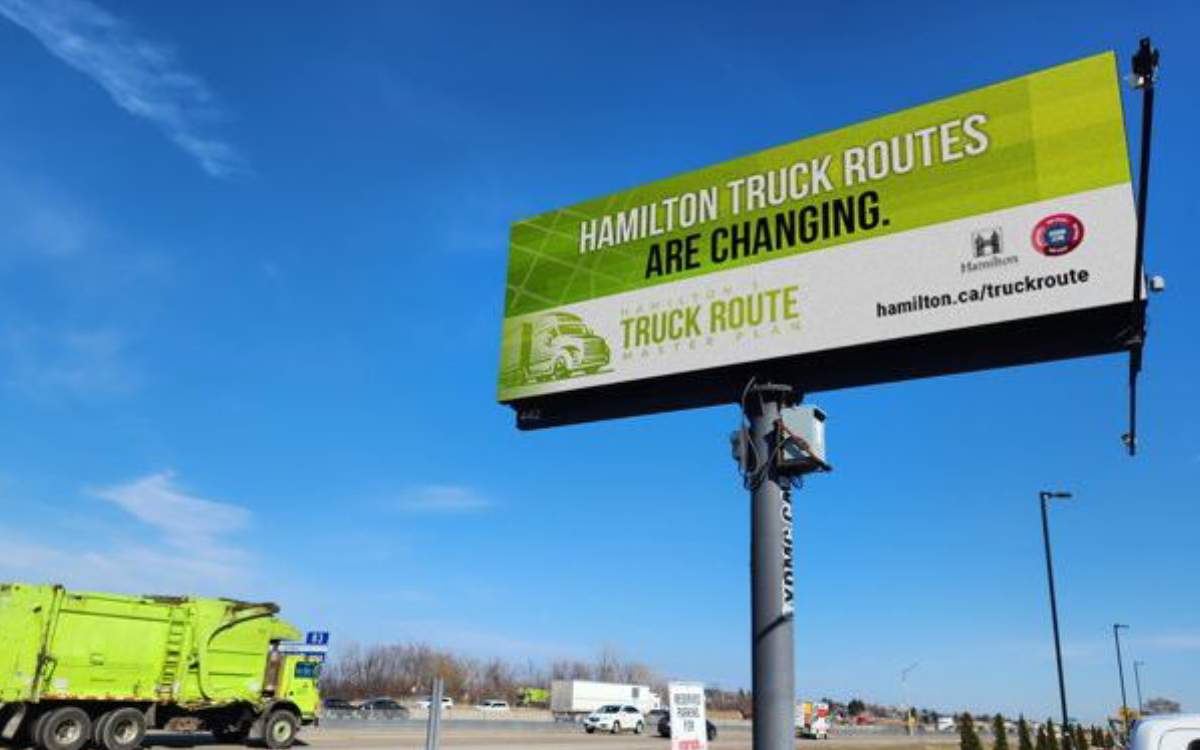 The changes are expected to reduce noise and improve air quality in the downtown area. The truck route changes are also meant to make streets safer for pedestrians and cyclists. Photo credit: LinkedIn/Alipa Ari Patel
The City of Hamilton has started to install new truck route signage as part of its updated Truck Route Master Plan that will see trucks with five axles or more banned from much of the lower city and downtown area.
The move comes as part of the 2022 Truck Route Master Plan update that was approved by Council last year.
The changes are the result of feedback and requests from residents and Hamilton Health Sciences (HHS) to restrict large trucks from residential areas and the area around Hamilton General Hospital. 
HHS said that heavy truck traffic around the hospital was presenting challenges to ambulance operators.
In addition to banning many trucks from the lower city, various streets are being removed from the truck route network and different time of day restrictions are being implemented along truck routes.
The City says that the changes will result in reduced noise and better air quality in the downtown area. The truck route changes are also meant to make streets safer for pedestrians and cyclists, particularly for kids walking home from school.
The new sign installations are expected to take six weeks, with more than 600 signs being installed.
The aim is for the installations to be complete by Sunday, April 30.
Once signs go up, police will begin enforcement.
Trucks will only be allowed to leave the designated route if they are making a delivery within a restricted area. 
Large trucks will be banned using Main Street East, King Street East, Claremont Access, and Concession Street as well as sections of Bay Street, Victoria Avenue North, Wellington Street North, Queenston Road, Parkdale Avenue North and other residential streets.
The new truck route also removes day-time truck route access from James Street South, John Street, Arkledun Avenue, and more frequently used routes.
Truck route sections of Bay Street North, Stuart Street and Queen Street North have been revised from full-time access to day-time access only.
The move will force truck drivers to use Burlington Street, the Red Hill Valley Parkway, and the QEW rather than cutting through the city.
It should also be noted that the ban does not apply to all trucks, only the largest ones that have five or more axles.
Hamilton Mayor Andrea Horwath said that the truck route updates provide the proper "balance between the industry and community needs."
"The implementation of new routes is a great next step in making sure our streets are safer for all users," she continued.
The full updated truck route map can be viewed on the City of Hamilton website at www.hamilton.ca/truckroute.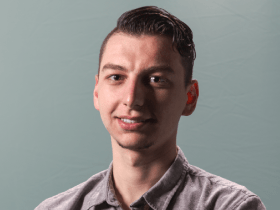 Based in Hamilton, he reaches hundreds of thousands of people monthly on Facebook, Instagram, TikTok, and Twitter. He has been published in The Hamilton Spectator, Stoney Creek News, and Bay Observer. He has also been a segment host with Cable 14 Hamilton. In 2017, he received the Chancellor Full Tuition Scholarship from the University of Ottawa (BA, 2022). He has also received the Governor General's Academic Medal. He formerly worked in a non-partisan role on Parliament Hill in Ottawa.