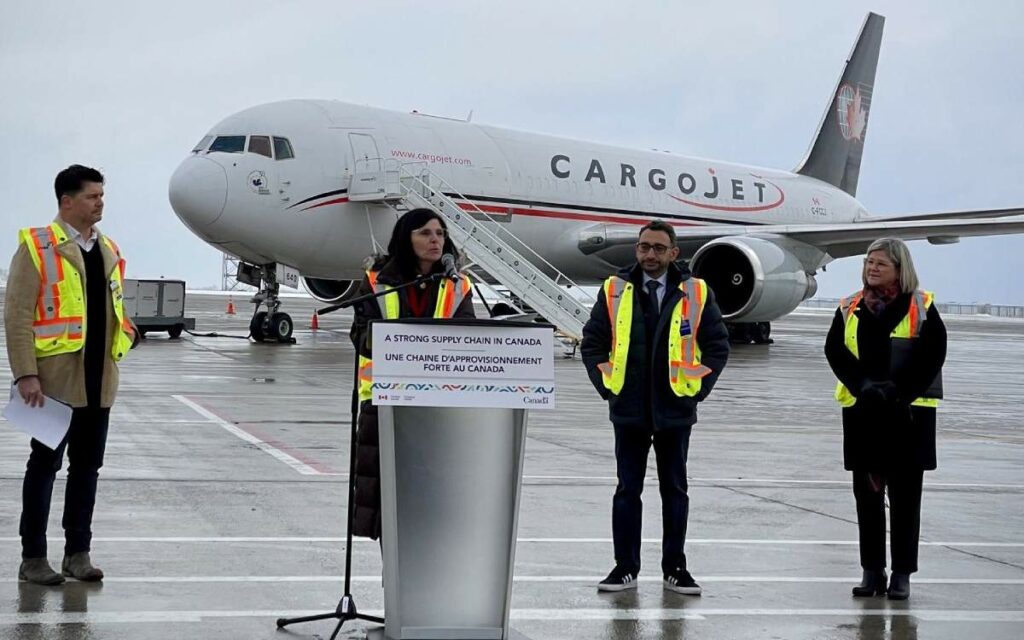 The federal money will go toward a $47 million expansion and improvement project at the airport. Photo credit: Twitter/Filomena Tassi
John C. Munro Hamilton International Airport (YHM) is set to receive $23.5 million for upgrades from the federal government. A funding announcement from Minister of Transport Omar Alghabra took place earlier this week on Monday, January 23. He was joined by MP Filomena Tassi, MP Chad Collins, MP Lisa Hepfner, and Hamilton Mayor Andrea Horwath.
Tassi serves as the Minister responsible for the Federal Economic Development Agency for Southern Ontario and Member of Parliament for Hamilton West-Ancaster-Dundas, Collins is the Member of Parliament for Hamilton East-Stoney Creek, and Hepfner is the Member of Parliament for Hamilton Mountain.
The $23.5 million investment will help fund a $47 million project to allow the airport to handle increased cargo operations by improving and expanding airfield capacity, increasing de-icing capacity, and building a new independent service road to reduce congestion.
A government press release says that the investment "will have significant economic and employment benefits for the region, such as reducing supply chain congestion, facilitating the movement of goods and creating good jobs for Canadians in the region."
The money is provided through the Government of Canada's National Trade Corridors Fund, which is a competitive, merit-based program designed to help infrastructure owners and users invest in the critical transportation assets that support economic activity in Canada. A total of $4.7 billion over 11 years (2017-2028) has been allocated to the program.
The project will reportedly create 460 construction jobs and over 1,800 permanent jobs by 2025.
"The John C. Munro Hamilton International Airport is an important trade hub for key economic sectors such as transportation, warehousing, agriculture, automotive, manufacturing and more," said Minister of Transport Omar Alghabra.
The airport received $18.5 million in 2019 for an upgrade of two main runways, taxiways, and lighting systems. But the airport continues to see growth, with a 59 per cent increase in cargo activity over the past five years and a 35 per cent increase in new jobs since 2017.
Hamilton International Airport sees considerable cargo traffic from shipping companies Amazon, Canada Post, Cargojet, DHL, Purolator, Prime Air, and UPS.
Hamilton International Airport itself, originally known as Mount Hope Airport, opened in 1940 as a Royal Canadian Airforce Base to train pilots for deployment in World War II. 
Currently, the airport is Canada's third largest cargo airport after Toronto-Pearson and Vancouver International Airport, respectively. It also offers passenger services through Air Transat, Sunwing Airlines, Swoop, WestJet, and Lynx Air.
Additionally, Play Airlines, a low-cost airline based in Iceland, recently announced that they are launching flights from Hamilton to Europe this June. Their website is already open for booking, with the first flight service from John C. Munro Hamilton International Airport (YHM) scheduled for June 22, 2023.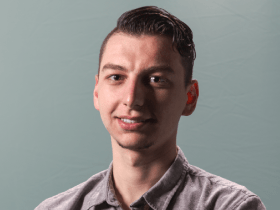 Based in Hamilton, he reaches hundreds of thousands of people monthly on Facebook, Instagram, TikTok, and Twitter. He has been published in The Hamilton Spectator, Stoney Creek News, and Bay Observer. He has also been a segment host with Cable 14 Hamilton. In 2017, he received the Chancellor Full Tuition Scholarship from the University of Ottawa (BA, 2022). He has also received the Governor General's Academic Medal. He formerly worked in a non-partisan role on Parliament Hill in Ottawa.