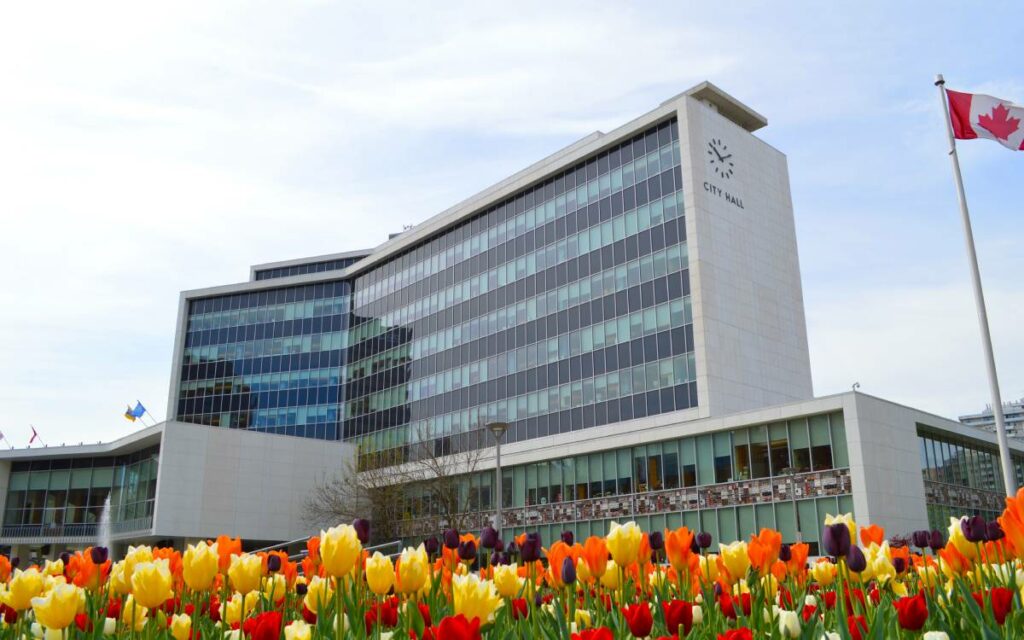 The City of Hamilton was set to terminate around five per cent of its current workforce at the end of September because of the now-suspended mandate. Photo credit: City of Hamilton
In yet another reversal, Hamilton City Council voted on Friday, August 12 to "suspend" the City of Hamilton vaccine mandate that would have seen city staff terminated as of Sept. 30, 2022.
The change comes into effect immediately, meaning that city employees will no longer be required to provide proof of vaccination or be subjected to rapid testing.
The reversal comes after a key meeting on August 4 where the Hamilton General Issues Committee heard from Lora Fontana, the head of human resources at the City of Hamilton, that the financial costs of following through with the mandate would cost taxpayers between $2.8 million to $7.4 million due to severance packages entitled to unionized city employees who would face termination.
The city had also spent approximately $93,000 in legal costs so far in defending the vaccination mandate.
It seems that the release of these financial details was the deciding factor leading councillors to suspend the mandate, despite previously digging in their heels. The August 12 vote passed 9-4 in favour of the mandate's suspension.
Voting to suspend the policy were Maureen Wilson, Jason Farr, Nrinder Nann, Tom Jackson, Esther Pauls, Brad Clark, Maria Pearson, Lloyd Ferguson, and Arlene VanderBeek. 
Those in favour of moving forward with employee termination were Fred Eisenberger, Russ Powers, John-Paul Danko, and Judi Partridge.
Sam Merulla, Brenda Johnson, and Terry Whitehead were absent from the vote.
Moving forward with employee termination because of the mandate would also have contributed to an existing city staffing shortage. Approximately 264 employees (five per cent of the city's workforce) were set to be terminated. 
Despite the reversal, it should be noted that council simply voted to "suspend" the vaccine mandate, meaning that it could still be brought back in the future if it has enough support. Additionally, a separate policy requiring all of the city's new hires to be vaccinated remains in place.
On April 27, council previously voted on whether or not to rescind the vaccination mandate. It required two-thirds support to pass, but that vote was a 6-6 tie and the mandate stayed. The original plan was to terminate unvaccinated city workers on Jun. 1, 2022.
But then, on May 25, with the number of days ticking down towards the June 1 termination date, Councillor Esther Pauls brought forward a motion to simply amend the vaccination mandate and make the termination date Sept. 30, 2022. Pauls, who is against the mandate, strategically brought forward the timeline amendment because amendments only require a majority vote to pass rather than the two-thirds council approval needed to scrap the mandate altogether.
The motion to extend the termination date to September 30 passed 11-3.
But, after hearing the financial cost of moving ahead with the mandate, it appears that several councillors changed their minds.
Despite that, a few councillors continued to support the mandate despite the policy potentially costing the city millions. 
Ward 8 Councillor John-Paul Danko, a staunch supporter of terminating unvaccinated city employees, has said multiple times that those who do not get vaccinated are "selfish". He voted in favour of terminating unvaccinated employees every time the issue came up. 
He was also one of the only councillors to vote against deadline extensions for unvaccinated employees, contending that the original policy should have remained in place and that unvaccinated employees should have already been terminated on June 1.
Note that the author of this article, Kevin Geenen, is running for Ward 5 City Council Hamilton (Gray Rd to Red Hill Parkway plus the Beach Strip). Based in Hamilton, Ontario, Kevin Geenen reaches hundreds of thousands of people monthly on social media. He is a regular contributor with The Hamilton Independent and has been published in The Hamilton Spectator, Stoney Creek News, and Bay Observer. He has also been a segment host with Cable 14 Hamilton. He is known for Hamilton Neighbourhood Watch crime updates and no-nonsense news graphics. In 2017, he received the Chancellor Full Tuition Scholarship from the University of Ottawa (BA, 2022). He has also received the Governor General's Academic Medal from Governor General David Johnston. He formerly worked in a non-partisan role on Parliament Hill in Ottawa.