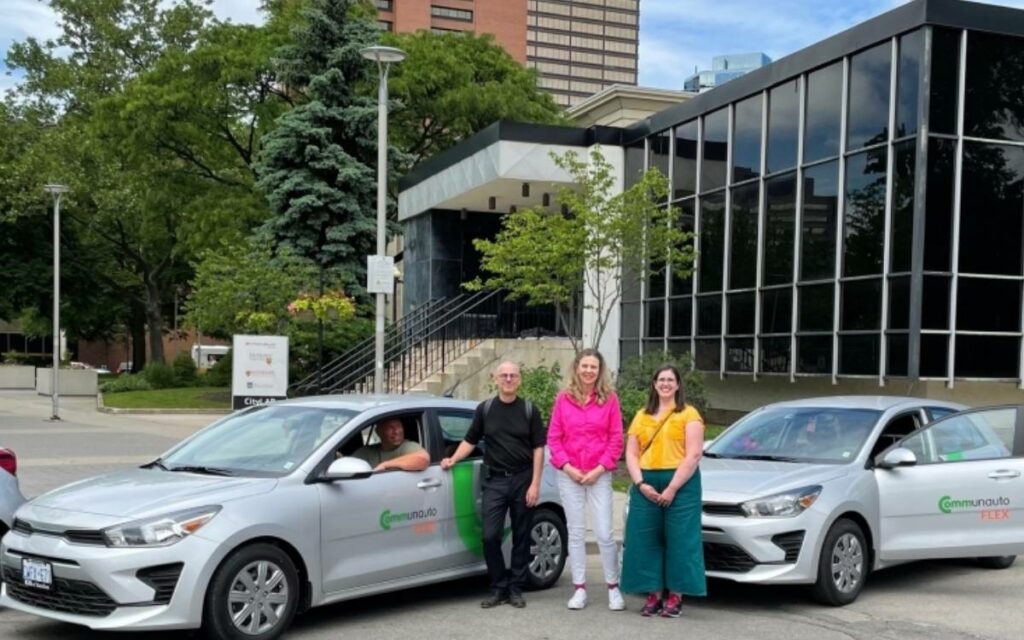 The city currently has two-way car-sharing services, wherein rented vehicles must be picked up and returned in the same location, but the new pilot project allows users to pick up and drop off at different locations within a designated area. Photo credit: Communauto 
As of June 2022, the City of Hamilton is now home to a free-floating car-share pilot service.
Hamilton is already home to round-trip car sharing where cars are picked up from specific parking stations and must be returned to the same parking spot. As part of that program, there are thirty-five Communauto vehicles available for round-trip use and eight cars managed by Zipcar.
But, the new free-floating car-share pilot, which is taking place in Wards 1, 2, and 3 only (Dundas boundary to Ottawa St in the Lower City), allows residents to use cars for one-way trips and park them essentially anywhere within the ward boundaries in on-street parking spots. That means that the cars do not need to be returned to the same location where they were picked up.
This free-floating pilot program will last for 18 months. There are twenty-five cars available for free-floating use, which service-provider Communauto dubs its "FLEX" vehicles.
The service is accessible to anyone with a valid driver's license by downloading the Communauto app and reserving a car. Once a user books their car, they are given thirty minutes to get to the car's location.
There is no time limit on the vehicles. They can be used for short or long trips, even out of town, as long as the vehicles are eventually returned to eligible street parking within either Ward 1, 2, or 3.
Using the FLEX service does not require any sort of monthly subscription, and rates are $0.41/minute, $10/hour, or $50/day. Each trip has a maximum of 75 kilometres included, with each additional kilometre costing $0.21 each. Frequent car-sharing users can also purchase monthly memberships which allow for cost savings.
Communauto's round-trip service, which operates out of specific parking stations, has operated in Hamilton for over twelve years. The service is particularly useful for those who only need cars for certain activities such as running errands or those who live in apartment buildings with limited parking spaces.
Using a car-share service, as opposed to owning a car, allows users to save on car insurance, parking, and maintenance costs.
Benoît Robert, CEO of Communatuo, commented on the pilot project launch.
"Communauto is proud to be able to launch FLEX service in Hamilton, and nearly double the fleet size available for residents in the city. Communauto aims to offer a sustainable and economical alternative to car ownership, in complement to transit and active mobility. By adding FLEX vehicles to our offer in Hamilton, it's another great addition that further develops mobility options in the city."
Mayor Fred Eisenberger also commented, saying that "one of the City's key strategic priorities is expanding transportation options to residents, and we are very pleased to do so today with the launch of the new free-floating carshare pilot program, Communauto FLEX."
"This program gives residents more flexibility in how they get around by providing people access to a vehicle without the need to book in advance, allowing Hamiltonians to choose the most appropriate method of transport for their trip."
Eisenberger thanked Hamilton's Sustainable Mobility team and Communauto for bringing the new pilot program to life.
The City of Toronto operated a similar free-floating car-share pilot from 2018 to 2020 before eventually making the program permanent.
Based in Hamilton, Ontario, Kevin Geenen reaches hundreds of thousands of people monthly on Facebook, Instagram, TikTok, and Twitter. He is a regular contributor with The Hamilton Independent and has also been published in The Hamilton Spectator, Stoney Creek News, Niagara Independent, and Bay Observer. He has also been a segment host with Cable 14 Hamilton. He is known for Hamilton crime updates and social media news graphics. In 2017, he received the Chancellor Full Tuition Scholarship from the University of Ottawa (BA, 2022). He has also received the Governor General's Academic Medal from Governor General David Johnston. He formerly worked in a non-partisan role on Parliament Hill in Ottawa.