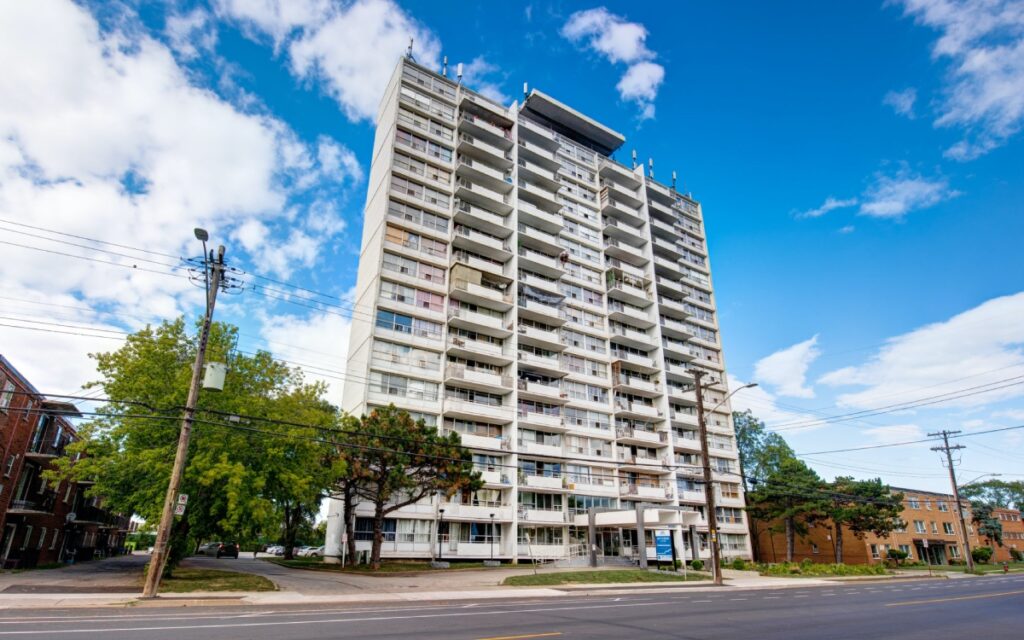 The median price for a two-bedroom unit in the city stayed just below $2,000 per month in August. Pictured is Hamilton's Redhill Tower apartment building. Photo credit: Skyview Living
According to Zumper's latest Canadian Rent Report, Hamilton remains middle-of-the-pack in terms of rental affordability in Canada. 
Released last Thursday, the monthly report ranked the city the 13th most expensive in the country out of 24 large municipalities, one spot lower than last month.  
The rental price for a one-bedroom unit in Hamilton in August was $1,550, up 2.6 per cent from July and 11.5 per cent on a year-over-year basis. 
The price for a two-bedroom unit in the city last month was $1,920, up 1.1. per cent from July and 11 per cent from the same month last year. 
Zumper's Canadian Rent Report analyzes rental data from hundreds of thousands of active listings across Canada. Listings are then aggregated on a monthly basis to calculate median asking rents for the country's most populous metro areas, providing, according to Zumper, "a comprehensive view of the current state of the market."
The report is based on all data available in the month prior to publication. Short term listings are not included in the data. 
Once again topping the monthly list was Vancouver, which continued its 4-month trend of consecutive all-time highs. A one-bedroom apartment in the coastal city will now run a hopeful renter, on average, $2,500. A two-bedroom unit will cost the typical renter $3,630, up 25.6 per cent year-over-year. 
Rental prices in the list's second most expensive market, Toronto, actually went down last month for both one- and two-bedroom units by 1 and 0.4 per cent, respectively. The median one-bedroom rental in the city was $1,980, and $2,530 for a two-bedroom rental. 
Rounding out the top five most expensive, in order, were Victoria, Burnaby, and Kelowna.
Nearby Hamilton came in at 13, with comparable rates to St. Catharines, while Windsor remained the most affordable city in Ontario, with the median price for one-bedroom unit in the city dropping three points to $1,310. 
The country's three least expensive markets, and the only metro areas where renters can find a one-bedroom apartment for less than $1,000 per month, were Saskatoon, Regina, and St. John's, Newfoundland.