Hamilton one of three communities where pilot will take place. Deputy Premier and Minister of Health Sylvia Jones was on hand at McMaster Children's Hospital Thursday to announce the new program. Photo credit: Twitter/Sylvia Jones
Last Thursday, the Ontario Government announced it will be investing $97 million over three years to launch and run a pilot program helping children and youth who have complex special needs, including mental health difficulties.
The pilot, which will be available in Hamilton, Toronto, and Ottawa, will help connect youth with specialized care and services.
The new program aims to help those with developmental and intellectual disabilities, mental health concerns, chronic conditions, and physical disabilities.
Called the "Integrated Pathway for Children and Youth with Extensive Needs," services will start being offered this April.
McMaster Children's Hospital in Hamilton, Holland Bloorview Kids Rehabilitation Hospital in Toronto, and Children's Hospital of Eastern Ontario (CHEO) in Ottawa are the facilities that are a part of the pilot.
Families participating in the program will be connected to a team of professionals specifically tailored for each individual. Those professionals include physicians, social workers, and behavioural consultants.
Various services such as medication adjustment, behavioural support plans, mental health assessments, and counselling will be offered.
Ontario's Deputy Premier and Minister of Health Sylvia Jones explained the rationale behind the program's launch.
"The status quo isn't working," she said.
"Programs like this innovative integrated pathway will help to ensure children with complex special needs get the care they deserve."
Alex Munter, President and CEO of CHEO in Ottawa echoed Jones' comments.
Under the current system "too many families have to fight to access care," he said.
Munter emphasized that the new program is "unlike anything that exists in Canada."
Member of Provincial Parliament Neil Lumsden, who represents Hamilton East-Stoney Creek, also commented on the announcement.
He remarked that he's "thrilled" that McMaster Children's Hospital has been chosen as one of the three facilities to take part in the pilot.
"This program, while helping children and youth, will bring peace of mind to parents of children who require these specialized treatments, knowing that they can be accessed right here at home and at a world-leading health care facility," he said.
Participating hospitals will reportedly be working with local agencies to identify children and youth who may be a good fit for the program.
Parents and caregivers will also be able to speak to their dependent's current medical professionals to potentially be connected.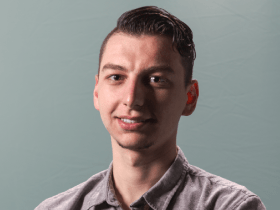 Based in Hamilton, he reaches hundreds of thousands of people monthly on Facebook, Instagram, TikTok, and Twitter. He has been published in The Hamilton Spectator, Stoney Creek News, and Bay Observer. He has also been a segment host with Cable 14 Hamilton. In 2017, he received the Chancellor Full Tuition Scholarship from the University of Ottawa (BA, 2022). He has also received the Governor General's Academic Medal. He formerly worked in a non-partisan role on Parliament Hill in Ottawa.