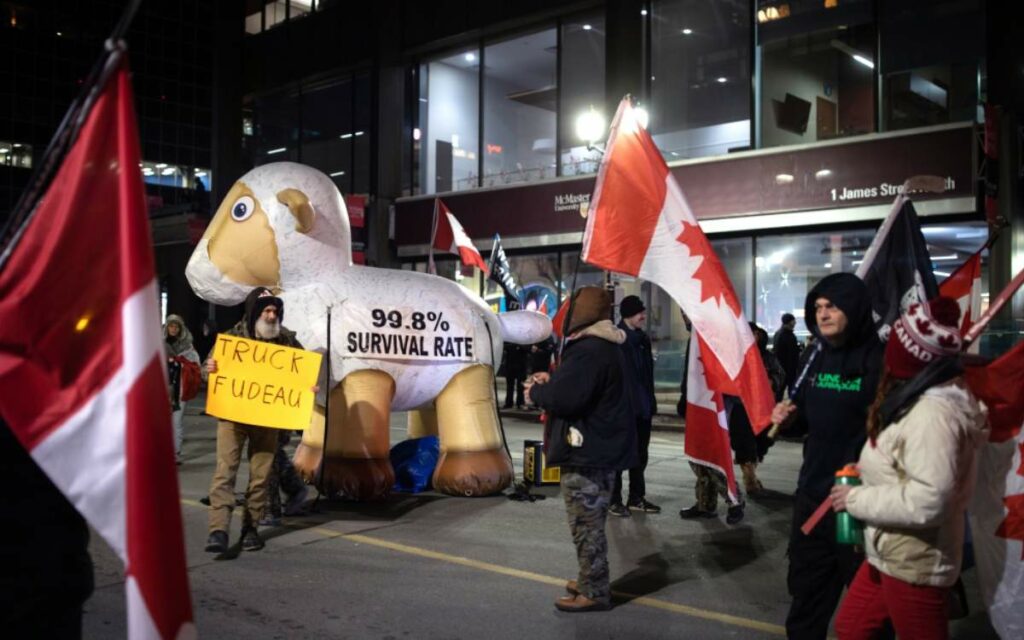 Marked by protests and funding promises, the governing Liberals' Cabinet retreat in Steeltown this week was full of mentionable moments. Photo credit: The Canadian Press/Nick Iwanyshyn
Prime Minister Justin Trudeau's three-day Cabinet retreat came to a close on Wednesday, January 25 in what was a rather eventful visit. From Monday, January 23 to Wednesday, January 25, the 39-member group of Canada's highest-profile politicians met to discuss various issues and strategize for the upcoming 2023 political year.
The group stayed at Hamilton's Sheraton Hotel, a location that was correctly predicted by The Hamilton Independent prior to the visit.
A Trudeau press release noted that the retreat would focus heavily on affordability.
Day 1 – Monday, January 23
On the first day of the retreat there were a couple of funding announcements attended by various Ministers.
Transport Minister Omar Alghabra announced that the federal government will be contributing $23.5 million for a $46.5 million expansion of the John C. Munro Hamilton International Airport (YHM)
Then Canada's Minister of Justice David Lametti visited the John Howard Society's Barton Street location to announce $600,000 over four years of support for their Fetal Alcohol Spectrum Disorder (FASD) Youth Justice Program.
Meanwhile, downtown, approximately 200 protestors shut down a portion of King Street in front of the Sheraton Hotel in support of migrant workers.
Officially called a "status for all" demonstration, the group is demanding an uncapped regularization program in Canada for all migrants. They also want an estimated 500,000 undocumented people and their families to be granted permanent resident status.
Prime Minister Trudeau also made his first public appearance in Hamilton on Monday, although not in an official capacity. He walked along Locke Street with Member of Parliament Filomena Tassi, stopping to pick up a burger and soup at restaurant "The Burnt Tongue". He also briefly hopped onto a stopped HSR city bus to say hello to transit riders.
Day 2 – Tuesday, January 24
On day two, Trudeau appeared on 900 CHML's Good Morning Hamilton radio program, speaking about his government's investments in the Dofasco Green Steel Initiative and the soon-to-come LRT.
He also met face-to-face with Hamilton Mayor Andrea Horwath in what was largely just a photo-op. Interestingly, it was the first time that Horwath has met with Trudeau from a position of governance. 
Despite Horwath having served as the Member of Provincial Parliament (MPP) for Hamilton Centre from 2004 to 2022 and as leader of the Ontario New Democratic Party (NDP) from 2009 to 2022, her party's lack of electoral success means that she has never actually governed until she was elected as Hamilton's Mayor in October 2022.
Police also proactively closed off some streets in the downtown core as protests continued outside the Sheraton Hotel.
This time, the majority of demonstrators appeared to be those protesting Trudeau's handling of the COVID-19 pandemic, specifically his policy of mandating vaccinations for all travellers.
Photos of the protest show Canadian flags, American flags, and "F*** Trudeau" flags. A popular social media video shows people yelling at Trudeau as he walked from "Bread Bar" on James Street back to the Sheraton Hotel.
Despite the somewhat chaotic scene, police say that no arrests were made.
Day 3 – Wednesday, January 25
On the final day of the Cabinet retreat, Trudeau visited the McMaster Automotive Resource Centre.
He responded to questions about the protestors, calling them a "handful of angry people."
He also promised that he will ensure that affordable housing is built along the LRT route, but did not go into further details about the cost or how much he will build.
Member of Parliament Dan Muys, who represents Flambourough-Glanbrook as part of the Conservative Party of Canada's Official Opposition, told The Hamilton Independent on Monday that it was somewhat ironic for the Liberal Government to be discussing affordability when "it's the Trudeau government's policies that are making life less affordable, causing 40-year high inflation and leading to the mortgage and interest rate hikes that Canadians are struggling with."
Ironically, on the last day of Trudeau's "affordability" retreat, the Bank of Canada announced yet another hike to its interest rate. The latest update is a 0.25 per cent increase, bringing the rate to 4.5 per cent.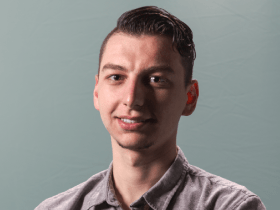 Based in Hamilton, he reaches hundreds of thousands of people monthly on Facebook, Instagram, TikTok, and Twitter. He has been published in The Hamilton Spectator, Stoney Creek News, and Bay Observer. He has also been a segment host with Cable 14 Hamilton. In 2017, he received the Chancellor Full Tuition Scholarship from the University of Ottawa (BA, 2022). He has also received the Governor General's Academic Medal. He formerly worked in a non-partisan role on Parliament Hill in Ottawa.